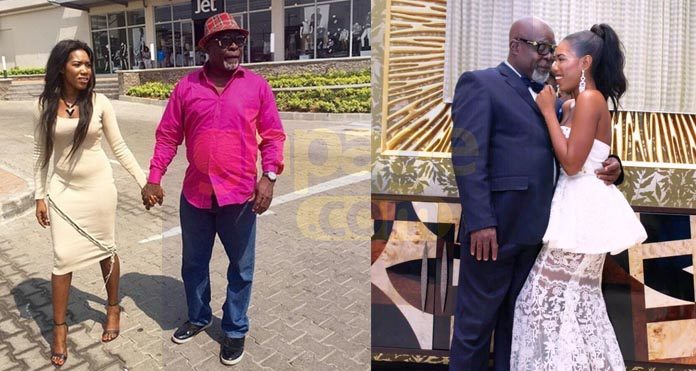 The relationship between veteran actor, Kofi Adjorlolo and s*xy actress and photo model, Victoria Lebene was no secret but it got it's main media attention when the controversial counsellor, George Lutterodt accused Kofi of using Victoria as his energy drink.
Ever since then, the relationship between 67-year-old Kofi Adjorlo and 27-year-old Victoria Lebene begun to take a nosedive.
In December last year, Kofi Adjorlolo stated that he never dated Victoria or ever proposed marriage to her and neither did he ever meet Victoria's family as was alleged when they broke up. He added that their relationship was a mystery and will forever remain so.
READ ALSO: Shatta Michy Takes Up A New Job After Her Break Up With Shatta Wale
"When the issues came up I did not utter a word because the circumstances surrounding it baffled me. There are some things that must remain a mystery. And it will remain a mystery forever. The mystery surrounding myself and Lebene is in the past. We should not be talking about it again,' he said.
Victoria Lebene has also rubbished rumours of having sex with ace actor Kofi Adzorlolo as his girlfriend.
According to the Ghanaian actress and Tv personality, Kofi Adzorlolo was just a friend and even met him on set and it was strictly friendship and nothing came up.
READ THIS: Samuel Owusu wins TV3 talented kids season 9 – Sarkodie Joins him on stage
"I only met Kofi Adzorlolo on set and our friendship sparked from there. We never had any sexual relationship and never dated. He was my friend and that is what he has remained to me till now".
She further added that even in the days where the media tagged her with Kofi Adzorlolo as a sidechick for people to believe, she was seriously dating and both her dad and the guy was not happy about the whole issue surrounding her and Kofi Adzorlolo.
"I was dating by then and both my dad and my guy was not happy about the whole issue. My dad even said he wouldn't even have accepted such to happen due to the age difference. Besides I don't like Sugar Daddies, they have had their time already and I love to mingle with my age mates."
READ MORE: Fiifi Banson Explains The Difference Between Shatta Wale And Stonebwoy
Victoria Lebene is one of the fastest rising Ghanaian actresses on the African continent currently and she appears to be climbing the ladder each step of the way.
Already she is the brand ambassador for Verna Mineral water and other renowned companies in and outside Ghana.
On 22nd May 2018, Victoria signed a deal with Pineapple Cosmetic products, producers of makeup for face, eyes, lips, and nails as their brand ambassador not only in Ghana but will represent the company in other African countries.
DON'T MISS: 9 Ghanaians Who Have Proved That Exam Results Does Not Determine Success In Life