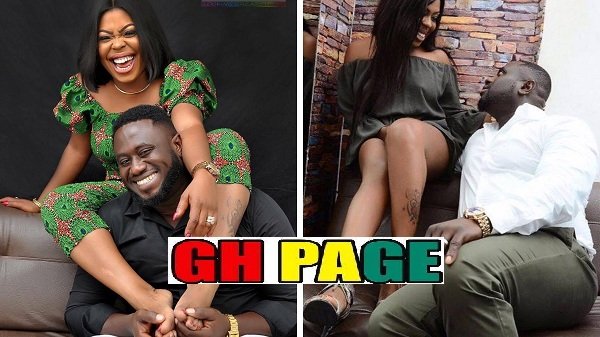 The report went on to say, the husband took videos and photos of the act between his wife and the mysterious man and subsequently stormed out of the house in anger. SEE HERE
Some other accounts even have it that angry Mr. Lawrence Abrokwah physically assaulted the Afia Schwar before leaving the house.
When the news broke, Afia Schwarzenegger threatened to sue bloggers for spreading false rumors about her. Something she described as "Character Assassination".
SEE HERE: Afia Schwarzenegger Ready To Sue Some Bloggers For Defamation
Ghpage.com source close to the couple has confirmed that it's indeed over between the Afia and Abrokwah. The source further revealed that Abrokwah indeed caught Afia in bed with another man stark nakked enjoying themselves.
In a two minute, twenty-three-seconds video recording of the entire incident believed to have happened at the home of Afia Schwar which Ghpage.com has had the privilege of seeing, Mr Abrokwa budge into a room which appeared not locked and saw the two on his matrimonial bed.
Mr Abrokwah asked the man if he knew Afia was a married woman while calling Afia "Ashawo Ashawo" Out of shame, Afia in defense rushed into the bathroom for a towel to cover herself and asked what he was doing in the house and who invited him.
The comedienne responded in the video that they have been divorced so Mr Abrokwah has no reason being in the house. She is also heard telling the husband he has not paid back the loan they took for their wedding
Explaining what happened, the husband revealed that he a had disagreement with Afia and he left to stay with his mum for a while only to return to see this abomination. And they had not divorced earlier as Afia wants people to believe.
SEE ALSO: VIDEO: Bishop Daniel Obinim and Wife Florence Obinim's Romantic Dance Got Church Members Crazy
SEE ALSO: Photos: Eucharia Anunobi Laid Her Only Child who suffered Sickle Anemia To Rest
EDITORS NOTE: The video will be uploaded shortly, there is an editorial debate on whether the video should be uploaded or not and that is what is delaying its posting. Come back shortly to Ghpage.com for the video and all the photos.
SEE ALSO: Comedienne Afia Schwarzenegger Arrested For FRAUD-Held at the Nima Police Station