Rufftown record's new act, Wendy Addo popularly known in the music scene as Wendy Shay has made her first radio interview and in it revealed how she met her manager, Bullet.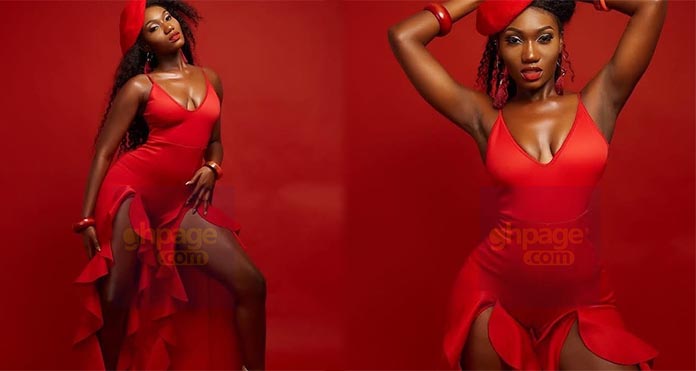 The artiste touted to replace late Dancehall sensation, Ebony Reigns in an interview on Accra based radio station Hitz FM and as monitored by GHPAGE.com revealed that she met Bullet in December, last year,2017.
"I met Bullet, last year December at Kwahu and he was playing a show with Ebony- so I actually met them as a fan, because I was a fan to Ebony ?Which We took pictures after the show."
"Then after, a man I have taken as my dad called Akwasi Ernest who knows I am a singer introduced me to Bullet to help me because she can trust him for that."
"Before that, Mr. Akwasi had sent my demo to him [Bullet] which he liked and told me to come down. I then took a flight from Germany to come and meet him without wasting much time." Wendy Shay disclosed.
She went on to be specific and mentioned the month, March 2018 as when she came down to meet him professionally. She added that she has signed a five-year contract with Rufftown records.
According to Wendy, it has always been her dream to join Bullet's rufftown records.
"The moment I saw Bullet, I said this is the man I am going to work with. It was a divine something and it just happened."She said
Considering the fact that Wendy came up just a little under two months after Ebony's tragic death and they having similar styles, the comparisons were that she is a replica to Ebony and is only copying her style.
Wendy, in a reaction, said she needs time to show what she has so people will stop the comparisons ?which might take a little bit of time for people to appreciate her own agenda or what she is bringing on board.
Watch the video below;
https://youtu.be/8-OlRa9xgVk
Wendy Addo was born in Ghana, Kwahu, Eastern region but was raised in Stuggart, Germany. She claims to have been doing music all her life but her first record label is with Bullet's Rufftown records.
She is a trained nurse but is currently doing music professionally.