Portable, the Nigerian singer, has been disqualified from the annual Headies awards and this is why.
The singer took to social media a few days ago to claim affiliation with the infamous group 'One Million Boys.'
Following the singer's bad reputation, he was disqualified from the Headies after previously being nominated for numerous criminal activities.
Excerpt of the disqualification notice from Headies to Portable reads:
"We regret to announce that following numerous indicting statements made by Mr Habeeb Okikiola popularly known as "Portable", and the incessant negative attention that Mr Okikiola has garnered from the Nigeria Police and the general public in recent times, the organisers of the Headies have resolved to disqualify Mr Okikiola as a nominee at the forthcoming 15 Headies Awards. 
The decision to disqualify Mr Okikiola is accentuated by a series of misdemeanours by Mr Okikiola via his social media platforms. On the 25th of May 2022, he threatened to kill, harm or cause harm to the other nominees in the same categories of awards he was nominated for, if he does not emerge the winner, precisely."
Read Full Statement Below: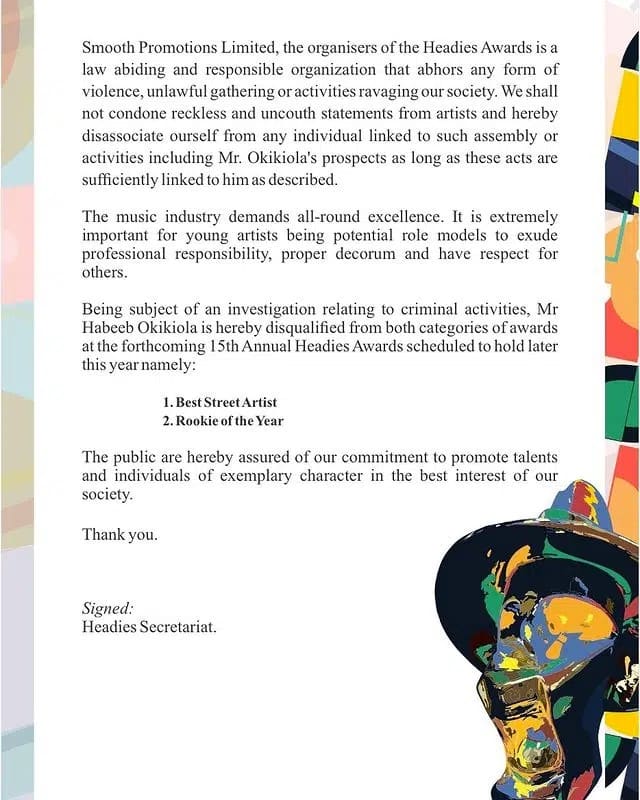 The 'Zaazu" hitmaker has built a brand on controversy and wild behaviour.