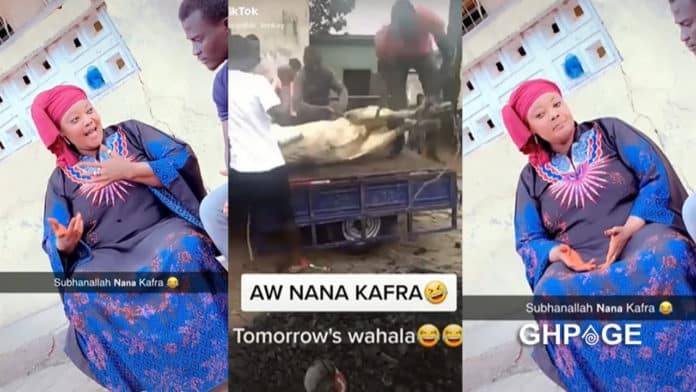 Ghana's local digital space has recorded a number of interesting pictures and videos, which have often sometimes been used as memes by users to communicate hilarious thoughts.
One of such infamous videos captures the moment an unknown Ghanaian Muslim woman was overheard in a video exclaiming "Subhanallah Sanu Nana Kafra" after a man was kicked off a tricycle by a restrained cow.
You might have seen the original video or even heard the voice over another video at one point while surfing online, but we bet you don't know the woman behind that voice.
The woman, Hajia Fuuta has finally been found, and for the first time, has narrated the story behind her instant fame.
During a recent interview, she recalled that her family had purchased a cow to be slaughtered during the Islam festivities some four years but the animal was so powerful that it kicked one of its handlers named Nana who was taking it to the slaughterhouse.
"I was recording a video and before I knew it, the cow had hit Nana with its legs straight to the ground," she said. "I immediately shouted 'Subhanallah Sanu, Nana kafra". At that time, a young lady standing beside me also shouted 'the animal is so strong."
Hajia was basically expressing her consolation to Nana, who appeared to have been hurt by the strong cattle.
In English, 'Subhanallah Sanu' translates as "Glory to God, sorry," while "Nana kafra" means "Sorry" in reference to the man named "Nana".
According to Hajia Fuuta, the video's popularity happened after actress Afia Schwarzenegger shared it on her social media page.
So there you have it!