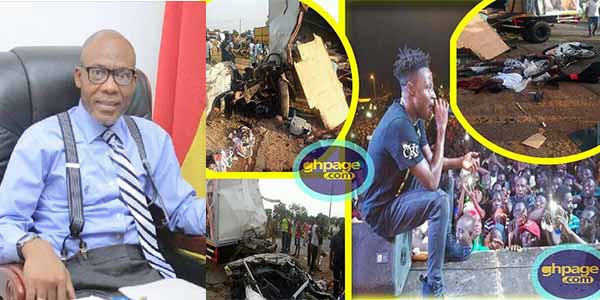 Eight people were reported dead in an accident concerning Tamale-based musician, Fancy Gadam and Nigerian musician, Patoranking.
Following that accident, the mayor of Tamale has blamed it on the artiste, Fancy Gadam. He believed, Fancy's talent is a danger to the people of Tamale. Adding that, he will not allow one single individual to take the people of Tamale to ransom.
"I have spoken to him, I have spoken to his managers but this young man will not listen and I tell you, his talent is a danger to the people of Tamale, the fabulous talent of this young man is a danger to the people of Tamale." He said.
He wondered why Fancy Gadam will mobilize young people of the street, all in the name of making a profit. He continued that, they are not also going to tolerate Fancy Gadam to use the blood of the people to make money.
"You want to use the blood of the people to make money? We won't tolerate that. I have banned all musical concert at the stadium.No more musical concert until further notice. We are not going to allow that. He was not going to pay a courtesy call to my discipline chief, they were over the place, blocked the street, a lot of indiscipline on the street." The mayor was heard saying.
Listen to the audio below;
According to an eyewitness, fans thronged to the Tamale airport to welcome Fancy Gadam and musician Patoranking who were billed to perform in a musical concert in Tamale on Saturday 30 June 2018.
However, the accident happened when a convoy of Fancy Gadam had collided with a truck while on their way to welcome Patoranking to Tamale.
GHPAGE.com was informed that Zylofon Cash who were sponsors of the Fancy Gadam-Patoranking show before the accident was having a float to promote their platform.
However, Fancy Gadam's fans were also on the streets with motorbikes heading towards the airport to meet him and Patoranking for the concert and they had a collision with the truck.