Nana Opoku Kwarteng, the father of the late Dancehall star, Priscilla Opoku Kwarteng aka Ebony Reigns has encouraged ladies to dress more like her late daughter who was famous for her provocative dressing because it makes them look enticing.
In an interview on Zylofon FM, Starboy Kwarteng as Nana Opoku Kwarteng is affectionately called revealed that dressing like Ebony Reigns will keep the name of her daughter on the lips of Ghanaian for a long time and it will also make the young girls look more attractive like her daughter did.
SEE ALSO: Ebony is a legend, I don't mind following her footsteps -Wendy Shay
Ebony Reigns was known for her skimpy dresses, her tattoos, multiple piercings, and the bad girl postures wherever she steps.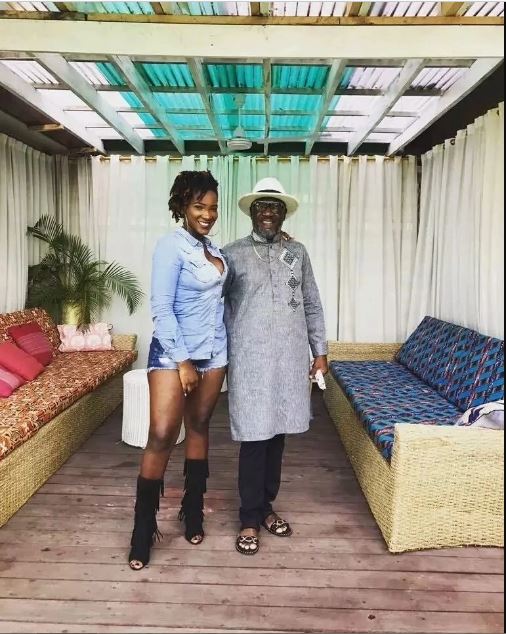 Starboy Kwarteng, however, admitted the young ladies will never be like Ebony Reigns but it will make them so enticing and keep Ebony's legacy going.
SEE ALSO: I want to have a good relationship with Ebony's father -Bullet
"It will be interesting to see these girls dress like the queen because she had a lot of antics," Mr. Kwarteng said on Zylofon FM.
"Young ladies should dress like the queen. For me, I will like to see you dress like that queen even though you might not look like her. It is so enticing."
On whereabout of Ebony Reigns cloths, Nana Opoku Kwarteng revealed he has them intact and might auction some day.
SEE ALSO: Videos to prove Ebony's sister is warming up to fill her sister's shoes
"Once upon a time who knows? We are going to be auctioning certain things that are there", Mr. Nana Opoku Kwarteng stated.