Undoubtedly, the outspoken Multimedia sports show host, Patrick Osei Agyemang popularly known as Ebony Reigns is the number one fan of the late Ebony Reigns.
Born Priscilla Opoku Agyemang, Ebony Reigns before her untimely demise was one of the most sensational female Dancehall artist in Africa.
SEE ALSO:Listen To The Sorrowful Speech Given By Ebony's Manager At Her One Week Memorial Service [WATCH VIDEO]
But she was heavily criticised by a section of Ghanaians for her 'Indecent' way of dressing. Countryman Songo who was a number one fan of Ebony defended her against 'needless' criticisms. He called her " My Baby Girl Ebony".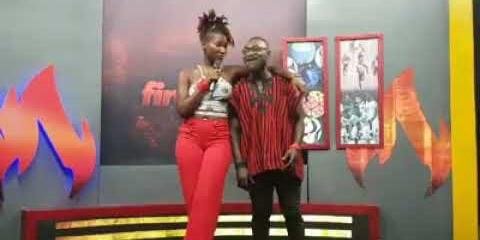 It was therefore expected that Countryman Songo will be present at Ebony's One-Week Memorial Service. But it was more than many imagined.
SEE ALSO:  Shatta Wale weeps uncontrollably at Ebony's One-Week Memorial [Watch Video]
Thousands of fans gathered at the funeral grounds couldn't keep calm when they saw Songo. Everybody wanted to touch or take a picture with the sports icon. In fact, Countryman Songo was mobbed heavily by the crowd
WATCH VIDEO BELOW
https://www.youtube.com/watch?v=k2uu5OQkoHI&feature=youtu.be
SEE ALSO: Here Are Photos OF Ghanaian Celebrities Spotted At Ebony's One-Week Memorial Service