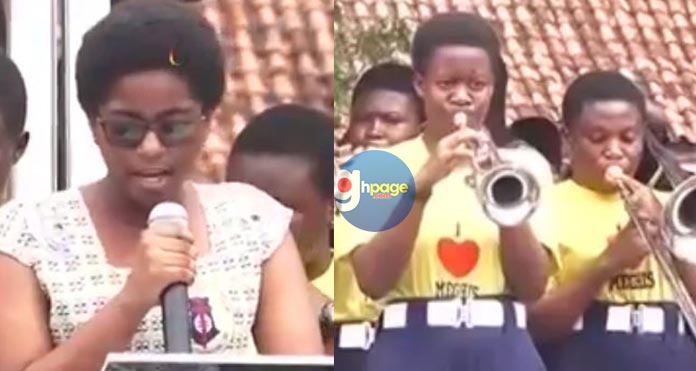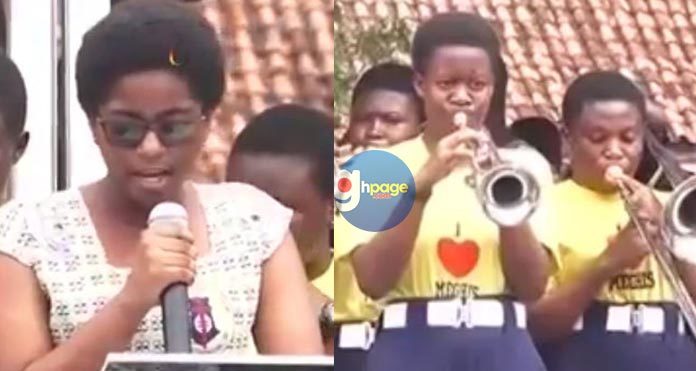 The funeral of the late Ebony is underway at the Forecourt of the State House in Accra. The classmates of the late dancehall diva have fondly remembered her after her demise and are at the funeral grounds to pay their last respect.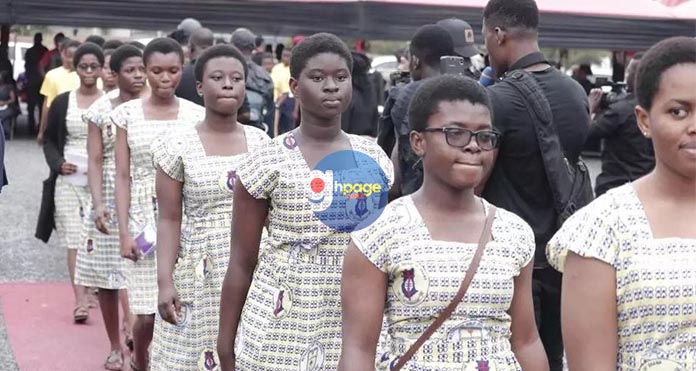 READ ALSO: Ghanaians Bath In Tears As Ebony Reigns Set To Meet Her Creator Today
The girls from Methodist Girls Senior High School at Akuapem Mamfi were there in their numbers together with their girl's band to perform and pay tribute to their friend and mate.
The tribute was read by one Form Two girl of the school, Emmanuella.
READ ALSO: Video: Kojo Antwi pays respect to Ebony, performs 'Me Di Wo Dwa' with Dancers
"Death is nothing at all. It does not count. I have only slipped away into the next room. Nothing has happened. Everything remains exactly as it was. I am I and you are you"
"And the old life that was lived so fondly together is untouched and unchanged. Whatever we were to each other that we are still. Call me by the familiar name Ebony Reigns. Speak to me in the easy which you always use. Put no difference into your tone. Wear no false err os solemnity or sorrow. Laugh as we laughed at the little jokes that we enjoy together. Play, Smile, Think of me. Let it be spoken with an effort without the ghost of a shadow upon it"
READ ALSO: Video: Ebony Reigns Has Appeared To Me 14 Times In A Distressed State – Eagle Prophet Reveals
"Life means all that it ever meant, it is the same as it ever was. There is absolute and unbroken continuity. What is death but a negligible accident? Why should be out of mind because I am out of sight? I am waiting for you for an interval, somewhere very near, just around the corner. All is well, you are forever in our hearts.
"Your beautiful name and songs will continue to reign in our minds. Rest Peacefully, Priscilla! Rest Peacefully Ebony Reigns till we meet again"
Watch the video below…
READ ALSO: Ebony's Father Weeps As Ebony's Official Funeral Clothes Are Unveiled [Watch Video]
https://youtu.be/vIzfJWe4EZU