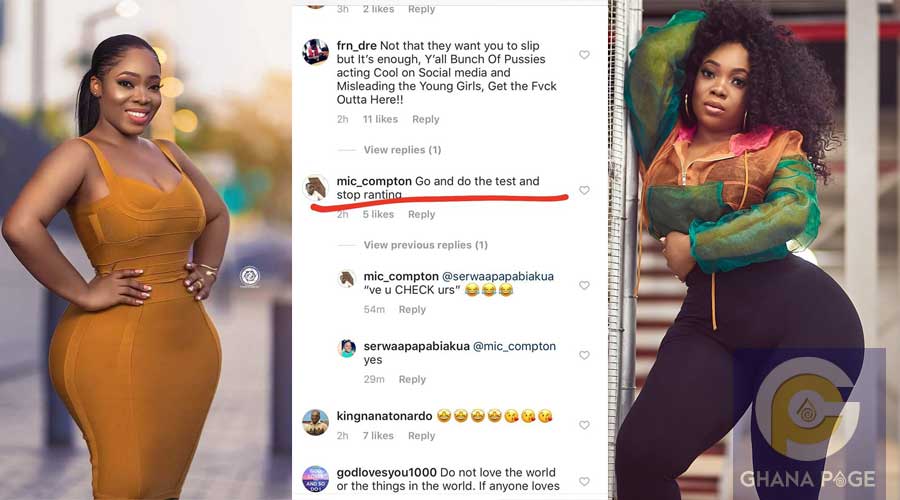 Instagram slay queen and Ghanaian actress, Moesha Buduong has been in the news currently for allegedly having sex with Shatta Wale's godfather and contracting HIV.
Shatta's godfather, who is also his former manager known as AIK Livingstone Abani has been accused of having sexual relations with celebrities and slay queens and infecting them with HIV.
ALSO READ: Shatta Wale consoles Moesha Buduong on her alleged HIV contraction
Well, Moesha Buduomh has been silent on the issue and social media users are curious to find out if she has indeed contracted HIV.
One social media user, _mr.opoku_ stated; "u sef dem say he chop u….go and check your status"
japanmoss01 also wrote; "Abeg Tell them the truth. Help dey for HIV. It's not even that bad so don't be shy my babe. Not be herpes".
ALSO READ: Man arrested for burning the feet of his son for allegedly eating his stew
ALSO READ: Moesha Buduong's anal threesome with alleged HIV+ man leaks
Another social media user mic_compton also wrote; "Go and do the test and stop ranting"
Others also wanted to find out if Moesha Buduong ever had a relationship with Shatta Wale's former manager.
shadrackdon9 asked; "what is going on between you and shatta boss, please tell us ok".
wealthyderick also asked; "Is it true"
superstvgh also queried; "Abeg the story I heard hope it not true"