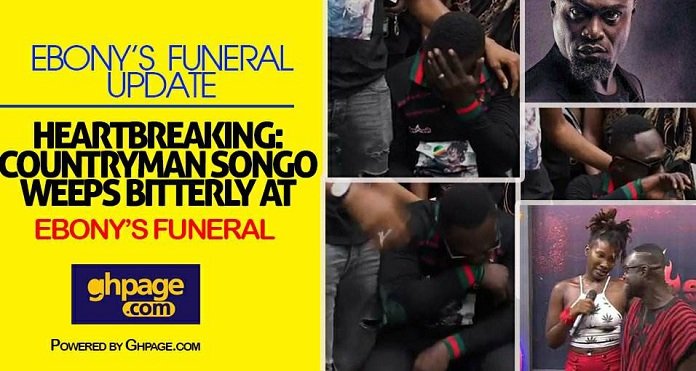 One other person who has lost a dear friend in Ebony Reigns is the Multimedia presenter, Patrick Osei Agyemang aka Countryman Songo.
There was a special bond of friendship between the maverick presenter, Countryman Songo and the controversial late singer, Ebony Reigns.
SEE ALSO: Watch Video Of When Atsu Vondee's Remains Was Being Carried From The Mortuary To His Hometown
Whenever Ebony Reigns is harshly criticised for one thing or the other, Countryman Songo was always there to defend and fight for Ebony.
And now, he has lost a very close friend. Countryman Songo is currently at the funeral grounds of Ebony Reigns and he can't control himself.
SEE ALSO: Video: The Heartbreaking Moment When Ebony's Parents Paid Their Last Respect To Their Daughter
He has been weeping from the minute he stepped there and has shown no sign of stopping. It simply heartbreaking.
WATCH VIDEO BELOW
SEE ALSO: Video: You Will Weep Watching The Video Of Ebony Reigns Laid In State