So since yesterday, one major issue that has been trending on social media in Ghana and even rose to be Twitter's number trending item in Ghana is Nana Ama and John Dumelo's war.
Nana Ama Agyemang Asante, Citi FM journalist described John Dumelo's #myhugsdey4u as gross and predatory sparking outrage on social media.
SEE ALSO: Xandy Kamel and Akuapem Poloo insult each other on social media
People have been wondering how it all started and Ghpage.com will explain it to you. On Valentine's day, John Dumelo chose to celebrate the day of love by sharing chocolate to University of Ghana ladies.
Together with his team, the Actor cum politician who happens to live in the same constituency the University of Ghana is situated paid a surprise visit to the school. They paid a visit to the female hostels among other places.
SEE ALSO: Musician who alleged Daddy Lumba killed Lumba Jnr explain his allegation
From the videos upload on social media by the ladies themselves, they were surprised and super excited seeing John Dumelo. Whiles some hugged him out of excitement others jumped on him. Others too simply shook his hand and thanked him for the surprise.
Sharing the event to social media, the man who has been tipped to be Ghana's president one day wrote:
My surprise visit to Legon yesterday was to spend Valentines with all the single ladies on campus. #spreadthelove #legon #Valsday.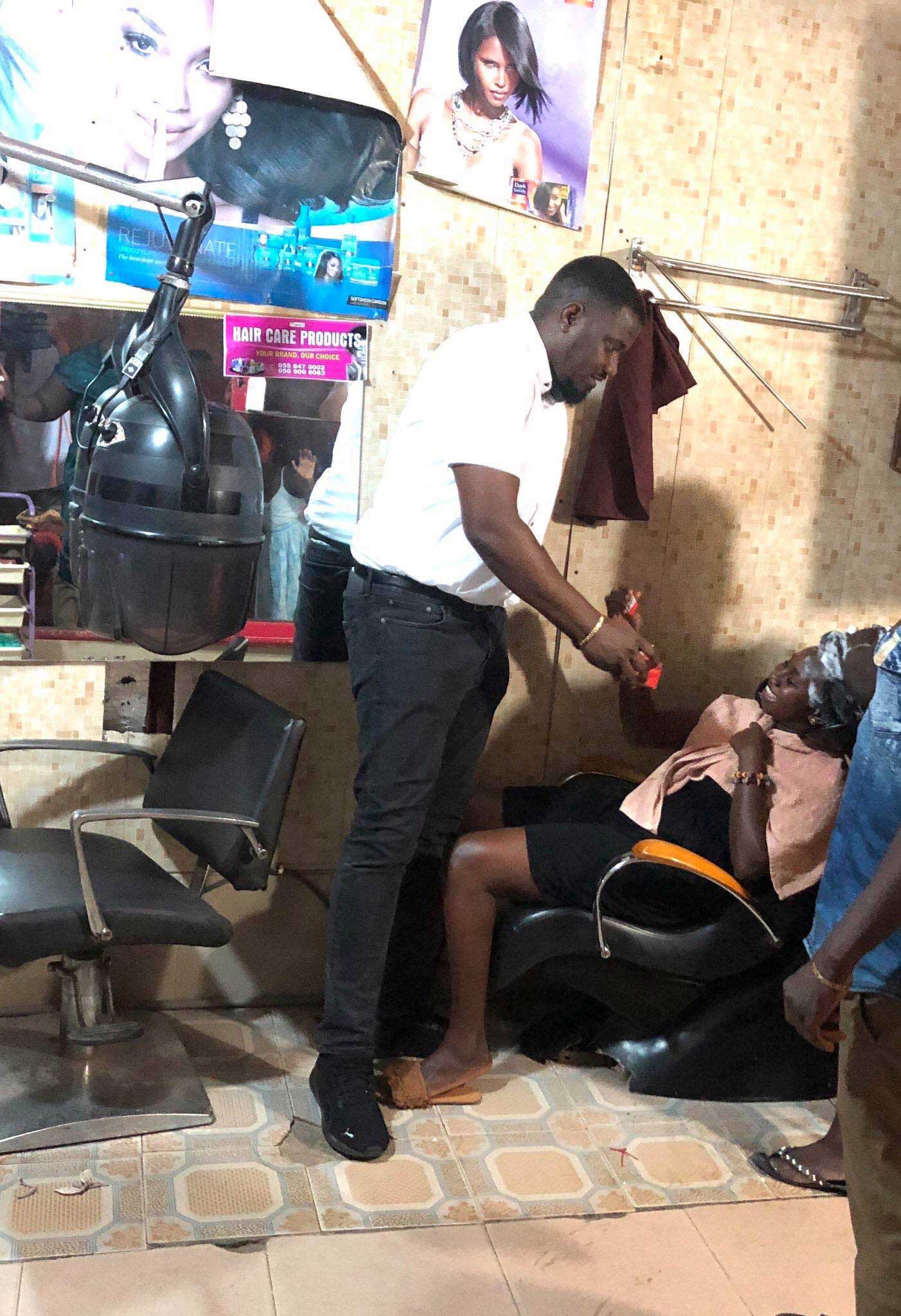 SEE ALSO: Fella Makafui involved in invading robbery allegation
Nana Ama Agyemang Asante, the Citi FM journalist a known feminist and a die-hard member of Pepperdem Ministry, unfortunately, found the act of love from John Dumelo wrong.
Retweeting one of the moment, Nana Ama described it as "Gross and Predatory". She wondered why no one on the team of John Dumelo warned him not to be creepy by hugging other women.
A few of her followers condemned her for ruining such a beautiful gesture from John Dumelo with her weird feminism stand. But she reacted with more punches. Nana Ama tweeted again:
"I'm astonished by the number of men saying this in response to my tweet about a man walking into the rooms of women students to hug them. Do you people know you can be nice to women without being creepy? As in, not grabby, and respectful of women's personal spaces and bodies?
SEE ALSO: We have 5 yrs contract with ungrateful Yaa Jackson already -Fmr manager
That was when all hell broke loose. Many people all over social media took her to the cleaners for turning feminism into hatred for men. Too many unkind words were used for her.
Interestingly, most of the attacks on Nana Ama were coming from ladies and more especially the same Legon girls who were visited by John Dumelo. They called it one of the most beautiful moments of their lives and warned her to stay off with "stupid feminism which has no meaning".
Check out some of the videos from John Dumelo's visit below
Thanks ? for the hugs ? @johndumelo1 ?????????? pic.twitter.com/tbsicO4JtY

— ABENA (@gunnerqueen) February 17, 2019
#myhugsdey4u pic.twitter.com/zjZ3aNbmIK

— MrDumelo (@johndumelo1) February 17, 2019
My surprise visit to Legon yesterday was to spend Valentines with all the single ladies on campus. #spreadthelove #legon #Valsday pic.twitter.com/nMtWMt2jV5

— MrDumelo (@johndumelo1) February 15, 2019
#myhugsdey4u #legoncampus pic.twitter.com/UXGMBHirZb

— MrDumelo (@johndumelo1) February 17, 2019
SEE ALSO: The Last video of Obinim's Son, Senior Bright performing with Rev. Obofuor before his death pops up [Watch]
John Dumelo has not actively reacted to the backlash from Nana Ama Agyemang but Nana Ama is rather throwing more tantrums on her page on Twitter till today. Ghpage.com is following the story and will update when something new comes up.