The Chief Executive Officer of ABC Picture, Kafui Danku is one of the most favorite actresses in Ghana and she has appeared to be enjoying her marriage very well but

Ghpage.com

is picking up information which goes to say her beautiful marriage to the Canadian businessman, Kojo Pitcher has been hit by a storm.
Kafui Danku and Kojo Pitcher have a beautiful baby girl they call Baby Lorde. Baby Lorde in last year landed her first major contract GHS100, 000 from a diaper contract making her the richest celebrity in Ghana who is less than 2 years old.
SEE ALSO: Meet The Richest Celebrity Kid In Ghana, She Is Worth Over GH¢100K & She Has 28K Followers On IG
But for a while now, Kafui Danku has been spotted in several pictures, videos, and events without her wedding ring making her fans question if she is having marital problems.
During the launch of her book, "Silence Is Not Golden", Ghpage.com observed that Kafui Danku was without her wedding ring.
SEE ALSO: Actress Kafui Danku Shares Her Touching Story In Her Maiden Book 'Silence Is Not Golden' Without Wedding Ring
According to Yen.com, Just on the 31s May 2018 at the Movenpick Ambassador Hotel during the launch of 'Revealed With Bola Ray', Kafui Danku was spotted without her wedding ring.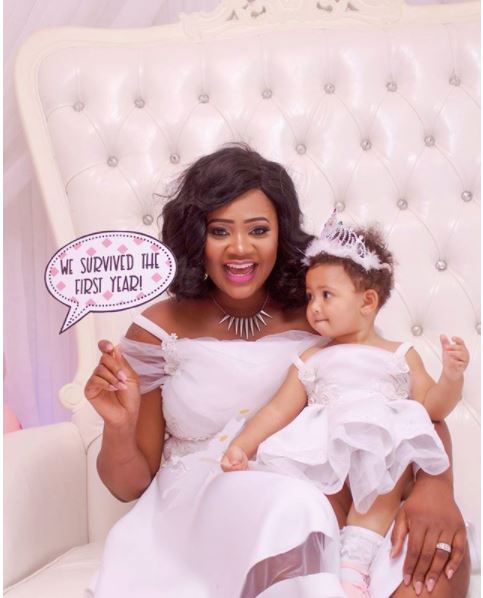 When questioned, the sensational actress revealed that she doesn't wear the ring because she has put on weight and the ring doesn't fit.
SEE ALSO:  MEET 8 GHANAIAN CELEBRITIES WHO WERE BLESSED WITH BEAUTIFUL BABIES THIS YEAR( PHOTOS)
Considering the fact that it takes less than a week for a ring to be to be resized even in a slow country such as Ghana, her fans keep wondering if her marriage has hit the rocks and she is refusing to admit it publicly.
But Ghpage.com, your most trusted news site is monitoring the situation and will update you on any new development. STAY WITH US
SEE ALSO:  [PHOTOS] MEET THE MOST HANDSOME AND PRETTY KIDS OF GHANAIAN CELEBRITIES – VERY CUTE!