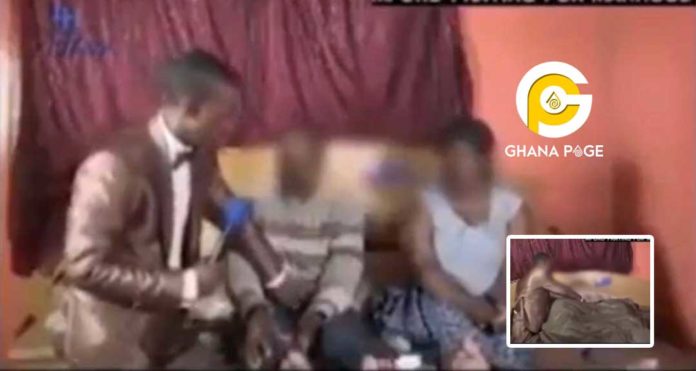 A video of a pastor rubbing a woman's cl*t as her husband makes love to her has gone viral on social media and has since received several criticisms.
The pastor has been identified as South African based televangelist, Paseka Motsoeneng popularly known as Prophet PFP Motsoeneng or Prophet Mboro.
SEE ALSO: Photos of the man who was resurrected by Alph Lukau chilling with girlfriend pops up
From what Ghpage.com has gathered, the husband has a medical problem with his manhood which has prevented him from impregnating his wife.
After consulting the pastor for a miracle the man of God decided to perform the miracle on live TV as they sleep together right in inside his church studio.
SEE ALSO: Social media users expose Alph Lukau 'resurrected' man as his cameraman
In the video, this man of God could be seen touching the woman and the man as they have sex right on the TV set.
Watch The Video Below
From what we have gathered, this is not the first or 10th times Prophet Mboro has done such a ridiculous stunt he calls a miracle.
SEE HERE: Pastor Alph Lukau resurrects a dead man from his coffin
Recently, another prophet, Alth Lukau also claimed to have resurrected a man from death. The man on his day of burial was sent to the church of Alth. It was there Alph Lukau decided to pull a stunt on live TV.