Willi Roi is the A&R for Artiste Development of Zylofon. His commentary and outburst on the station plus his social media posts have come under severe criticism thus putting his employers in the bad light almost all the time.
A Facebook post by Willi Roi on Livingstone Etse Satekla (Stonebwoy), which seems to prejudice an ethnic group has been much condemned by a section of the public.
READ ALSO: Willie Roi sacked from Zylofon FM – Management reveals
It all comes at the back of the recent fracas between Stonebwoy and his record label Zylofon Music. Though matters have been resolved, it seems old man Willie Roi is still not at peace with the boss of Bhim Nation Stonebwoy.
In the Facebook which has been condemned by many, Willie stated: "WHILE STONE IS BUSY PLAYING CHEAP GIGS FOR HIS POCKET SHATTA IS SHOOTING MULTI MILLION VIDEOS
LOOK SHARP !!
EWE EAGLE"
READ ALSO: Funny Face Gets Slapped for Touching A Girls B00bs
This has generated various insults on the man which was much respected by the same who are now throwing jabs at him especially fans of Bhim Nation.
Take a look at some of the trolls directed at him…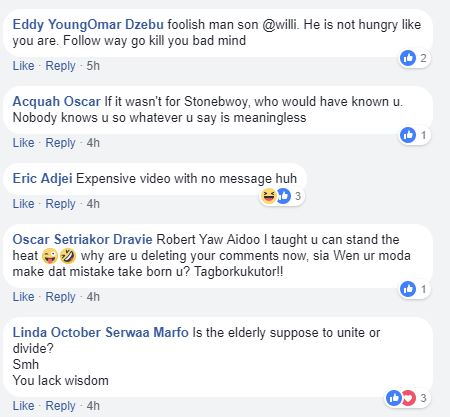 READ MORE: Boxer Bukom Banku Goes Into Hiding After Court Issues Bench Warrant For His Arrest
READ THIS: KOD Reveals Why John Dumelo Has Decided To Wed His Current Girlfriend
READ THIS TOO: Actor John Dumelo Set To Marry Girlfriend, Mawunya This Weekend In Spintex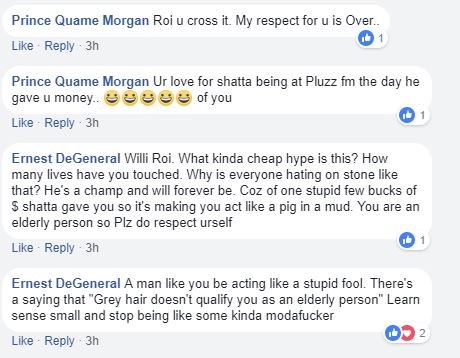 READ MORE: Here Are Photos Of Godfred Arthur, The OKESS Student Stabbed To Death