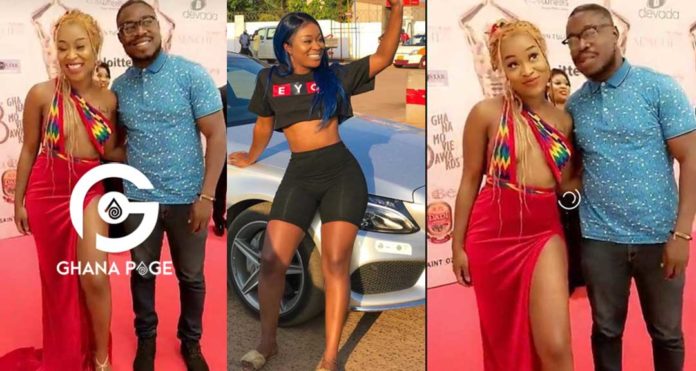 If one door closes another opens so the saying goes and it has worked perfectly for Ghanaian actress/media personality, Efia Odo as she grabs a new boyfriend few months after being dumped by her Sakawa boyfriend, Kweku Revloe.
Efia Odo is already flaunting a new boyfriend but this time she is extremely careful about putting him too much into the public domain.
Efia Odo was with this new guy whose identity has not yet been established at the 2018 edition of the Ghana Movie Awards and she was all over him.
She even shared photos of the two of them on her Snap but she deleted them few minutes after posting them. I guess she has learned her lesson this time around.
Efia Odo got the heartbreak of her life when the man she was soo into and would not take any advice from anyone, Kweku Revloe dumped her for unknown reasons.
Even after she was dumped and Ghpage.com published about it, she denied and kept flaunting Kweku Revloe on her social media handles. She recently got the courage to announce the breakup. We wish her well.