Actress Gladys Mensah Boaku aka Nayas from all indication is still not done with her ex-boyfriend and Gospel singer Ernest Opoku as she has in a new interview called him out as an addict who is always high on tramadol aka tramol.
According to Nayas, before Ernest Opoku climbs the stage to perform gospel songs, he first takes in heavy dosage of tramadol, tops it up with a glass of whiskey and ends it all with some hot s3x, in order to be gingered to shout and perform to the admiration of the audience at the events he attended.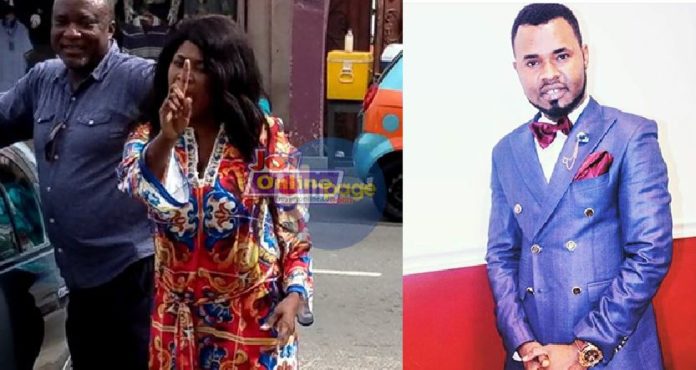 Also Read: Nayas blast Prince Williams for exposing Afia Schwarzenegger
In a video available, Nayas was asked if she had proof to back up her new allegations against her ex-lover but she stated that they have been together for a long time and hence whatever she says about Ernest Opoku is true.
She also revealed that she advised Ernest Opoku to desist from indulging in the taking of tramadol, whiskey and excessive sex before mounting any Christian stage but he gave deaf ears to her word of wisdom.
She also accused the Gospel singer of visiting shrines just to enhance his musical career.
Also Read: 'Apostle John Prah is not my type, I have about 100 men after me' – NAYAS response to critics
Watch the video below:
Issues between Ernest Opoku and Nayas started when the actress accused the Gospel singer of impregnating her and failing to take up responsibilities. This led to the attack from the actress to the singer where she stormed the premises of Adom FM with canes to whip the hell out of the Gospel musician during a live worship session.
After that incident, a report was made to the Nima police station and it came out that the actress claim of being pregnant was false but she stated that she had a miscarriage.