A female lecturer with the Federal University of Lafia, Nasarawa, Nigeria has perished in a car accident just 4 days after her traditional wedding ceremony.
Marachi Sandra Olua, a first class graduate of Federal University of Lafia, Nasarawa. She studied Sociology.
SEE ALSO: Akuapem Poloo's mentor, Rashida Black Beauty is back online!! – Shares photos of her beautiful daughter [SEE]
Besides her academic qualifications, Marachi Sandra Olua studied shoemaking and own a shoemaking company called Amy palace.
Marachi Sandra Olua was traveling from her hometown where the traditional wedding ceremony was held when the cars she was in got involved in a fatal accident.
SEE ALSO: Rev. Obofour and his 'big buttocks' wife share throwback photos to praise God for making them rich [Photos]
Besides Marachi Sandra Olua, 6 other people also died in that particular accident on that fateful day. Marachi Sandra Olua aka Xita or Zita never enjoyed her marriage.
One of her very close friends who shared the news on social media wrote:
Hmmm, I don't know why it took me this late to post this, maybe because it's not yet done on me that it is true that you are truly GONE and forever. I'm down with Heavy heart, sad mind and crumbled soul, how can you die four days after your wedding with first class in your kitty, why death why? Amarachi Sandra Olua, Xita or Zita is the name you asked me to call you, a friend and sister like no other. Xita why? Yes, you conquer life too early and left too soon.
SEE ALSO: Meet Asomdwea Hene Dr. Kofi Amoa-Abban, the 36-year-old rich man who united Shatta Wale and Stonebwoy [Photos]
Like a genius you are, with your first class in sociology, you went ahead to learn shoemaking and had a shoe company called Amy palace, your industrious ingenuity beats my imagination, Zita why? The only consolation I have now is that without a doubt in my mind you will surely rest in His bosom for your good heart to everyone around you and that God giveth and taketh but He has taken you to soon. Xita, sleep well till we meet to part no more. Adieu.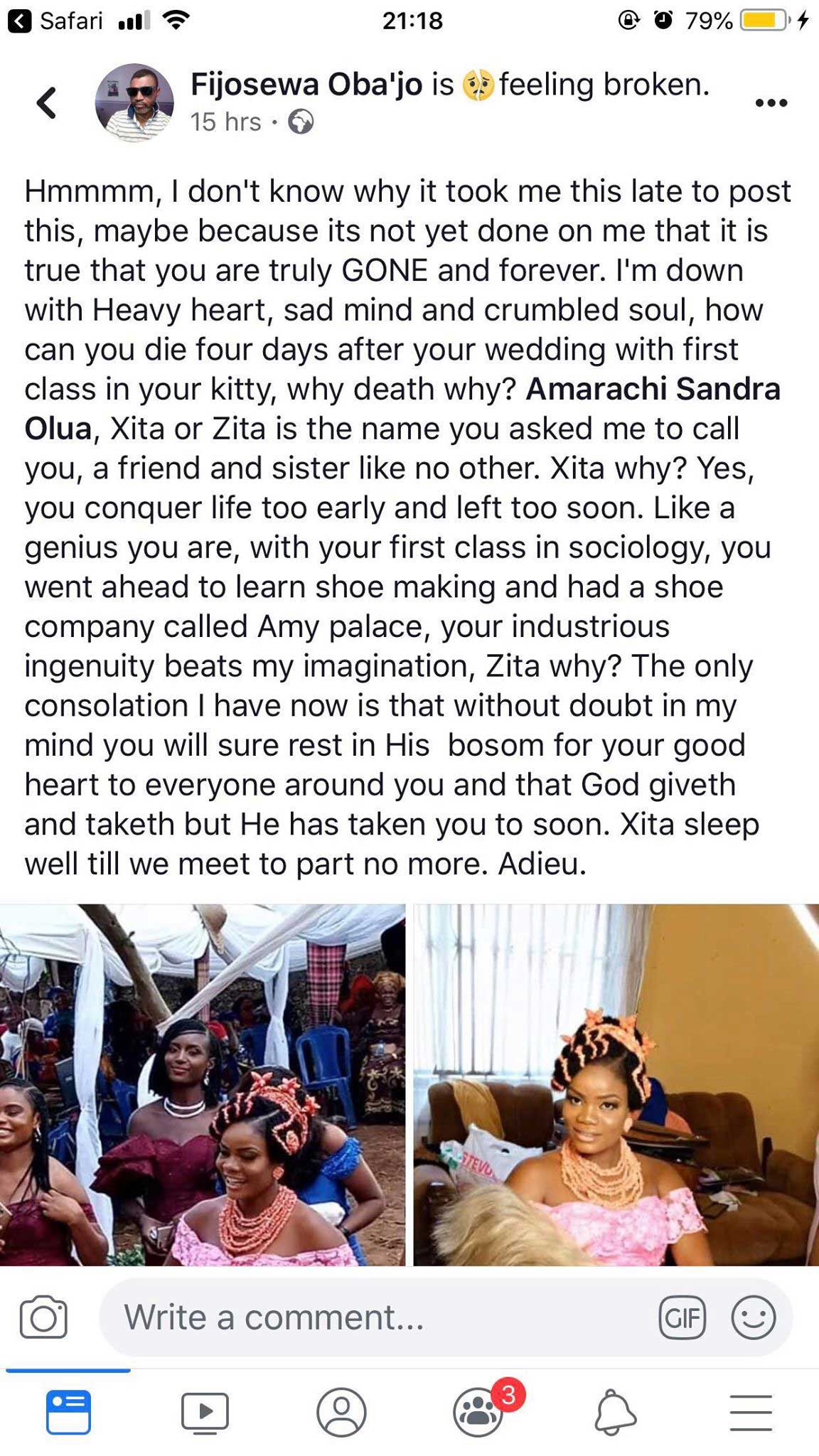 Rest In Peace Marachi Sandra Olua.