After their magnificent marriage ceremony, Mr. and Mrs. Owusu Addo has made their first public appearance. The King and Queen of Sarkcess Musik were at Akwaboah's musical event dubbed 'Cocktail Night With Akwaboah'.
Well, the first appearance of Sarkodie and his wife Tracy were at Akwaboah's live band musical concert. Addressing the patrons, Sarkodie lauded the skills of Akwaboah.
SEE ALSO: Newly released photos of Sarkodie and Tracy's wedding prove Tracy didn't wait for 13 years in vain [SEE PHOTOS]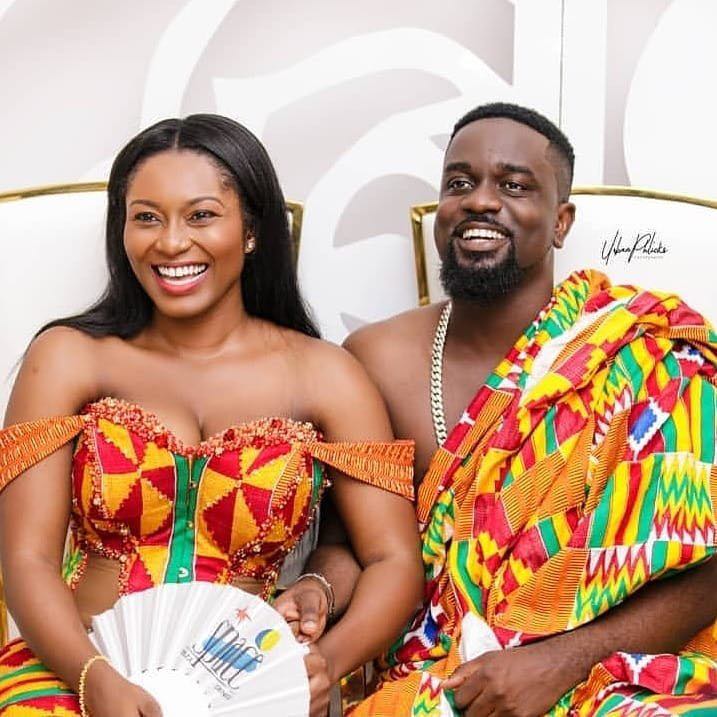 He made mention of Akwaboah coming from the family of legendary musicians. His grandfather was a great musician and his father, Nana Akwaboah is a legendary highlife musician in Ghana. Akwaboah is currently signed unto the Sarkcess Musik label owned by Sarkodie.
Sarkodie and Tracy after 13 years of relationship which has produced a sweet baby girl they affectionately call Titi held their Traditional marriage ceremony on Tuesday 17th July and crowned it with a white wedding on Saturday 21st July 2018.
SEE ALSO: 13 moments of Sarkodie and Tracy that Prove Tracy is just the perfect match for King Sark [SEE PHOTOS]
Both ceremonies were strictly by invite and even pictures of the couple were not allowed to be taken by the people in attendance which even angered his fans considering how they wanted to be part of the wedding which went viral on Twitter with the #HighestWedding.
Well, the photos were later released and it was worth the wait. Both ceremonies were awesome and everything you could imagine.
SEE ALSO: Celebrities who showed up at Sarkodie and Tracy's white wedding
The hanging wedding cake blew the mind of many although a lady later came out claiming Sark's wedding planner stole her idea.
WATCH THE COUPLE AT AKWABOAH'S EVENT BELOW
SEE ALSO: Here are the official photos from Sarkodie's Traditional wedding