Marriage is said to be a recognised union between spouses and it is expected to last forever (till death do us part) but for some reasons, some marriages seem to fall apart due to unforeseen reasons.
These are some Ghanaian celebrity couples that are serving us hot couple goals and we wish them the best.
Okyeame Kwame & Annica Nsiah-Apau
Okyeame Kwame and Annica got married on 16th January 2009 and have been together for over 13 years.
The couple has had their share of challenges but Okyeame Kwame says their year together has been blissful and he has no regrets choosing to spend the rest of his life with Annica.
The couple is blessed with two lovely children, Sir Kwame Nsia Apau and Sante Antwiwaa Nsia Apau.
Okyeame Kwame is so proud of her beautiful wife and loves to show her off.
ALSO READ: Okyeame Kwame has yet revealed that he has never cheated on his wife since marriage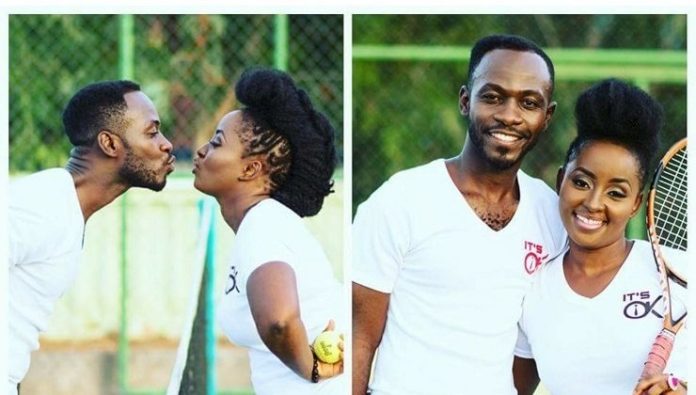 Nana Ama McBrown & Maxwell Mensah
Beautiful and versatile actress Nana Ama McBrown got married to Maxwell Mensah, the love of his life at a private ceremony on 5th August 2016.
They are a cute couple that can't seem to get their hands off each other. Nana Ama is a bit older than Maxwell but that is not a hindrance to their love in any way.
They are a lovely couple and wish them a very lasting union.
ALSO READ: Stop putting pressure on me to give birth- Nana Ama McBrown
Sulley Muntari and Menaye Donkor
Sulley is a Ghanaian International footballer married to the winner of Miss Universe Ghana, 2004.
The lovely got married in 2010 and have a handsome son called Jamel Krasie Muntari.
Sulley Muntari is a Muslim while his wife Menaye is a Christian which shows us clearly that love has no religion.
Sarkodie and Tracy
Micheal Owusu Addo popularly known as Sarkodie tied the knot with his long-term girlfriend, Tracy on 22nd July 2018.
The two have been together for over 13 years and can be described as the longest standing celebrity couple.
Their relationship began before Sarkodie became the famous and international star he is now.
In March 2016, the couple welcomed their beautiful daughter Adalyn Addo also known as Titi.
Gifty Anti and Nana Ansah Kwao
The award-winning Journalist Gifty Anti got married to the Chief of Akwamu, Nana Ansah Kwao IV on 15th October 2015.
The couple welcomed their royal baby on Friday 11th August 2017 name Nyame Enyonyam. They are lovely together and wish them the best in their marriage.
Kwaw Kese and Doris
Rapper Kwaw Kese tied the knot to his long-term girlfriend of six years, Doris Kyei Baffour in 2016.
The couple has a lovely beautiful daughter born in September 2016 and she is the newest addition to the family.
This will be Kwaw Kese's second marriage after divorcing his American wife, Ann in 2014 after a six-year marriage.
Selly Galley &  Big J Cartel 
Selly Galley tied the knot to her husband Big J Cartel, a Ghanaian musician known as Praye Tetia on September 26, 2015, after a long relationship.
The two lovebirds have been together for many years and it's obvious they can't keep their hands off each other.
They have an amazing and enviable relationship.
Naa Ashorkor & Cabutey Adodoaji
Tv Presenter Naa Ashorkor got married to her long-term boyfriend  Ahuma Cabutey Adodoaji on 4th October 2014.
The couple has been together for over 5 years and recently welcomed their baby boy which is the couple's first child.
Majid Michel & Virna Michel
Ghanaian actor turned Pastor is married to Virna Michel and have been together for over 10 years.
The couple renewed their marriage vows in 2015 and Majid reveals that he owes his success to his wife Virna.
The couple has three adorable children Kiera Michel, Zara Michel and a newborn baby.
Beverly Afaglo and Choirmaster
Ghanaian musician known as Choirmaster has been married to actress Beverly Afaglo for over 5 years and they still look madly in love.
The couple has been blessed with two children. The couple is always seen together and wishes them a blissful marriage.
ALSO READ: Fans descend on Adane Best for accusing Kuami Eugene of theft