Ghanaian Kumawood actress Clara Benson, popularly known by her screen name, Maame Serwaa, a few days ago declared that she has gotten a boyfriend after Senior High and she loves him so much.
However, according to what Ghpage.com gathers, the new boyfriend is called Starboi Mingle.He is the lead character of Ay3ka short skits shown on many local TV stations.
He is also the lead character of a tv series which airs on Royal TV called Treasures of the Youth.
Social media updates from both seem to suggest there is an amorous relationship between them.
Starboi in a post on his profile on facebook posted a photo with Maame Serwaa with the caption;
When I need motivation, my one solution is my queen 'cos she stays strong…#Ay3ka #Treasuresoftheyouth #like #share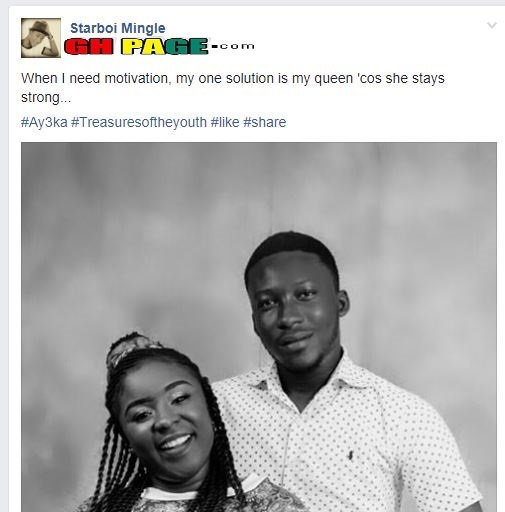 READ ALSO:"I Do Have A Boyfriend And I Love Him So Much" —Actress Maame Serwaa Talks About Her New Boyfriend
Maame Serwaa a few minutes ago on her Instagram page also posted the same photo with the caption;
"BESTFRIENDS: IT'S A PROMISE,??NOT A LABEL.@starboi_mingle"
Interestingly Ghpage.com published photos of the Kumawood's child actress Ex-boyfriend known as shakes.So it came as a big surprise to us when Maame said, she started dating right after SHS.
Well, it is either Maame was lying during the interview or the Shakes guy lied when Ghpage.com spoke to him about their relationship.
READ ALSO:Meet The Richest Celebrity Kids In Ghana And Their Net Worth ( With All Their Photos)
Whichever way you look at it, she has a new boyfriend now and she is in love, she says.