Deputy National Security Coordinator in-charge of Airports, Hopeson Adorye has revealed that he fell in love with his new wife Gifty Adorye the very first time he met her.
According to him, he was in a hurry to marry her when he found out that she was single because he wasn't ready to lose her.
ALSO READ: Gifty Adorye recounts how she was badly received at her church when she was divorced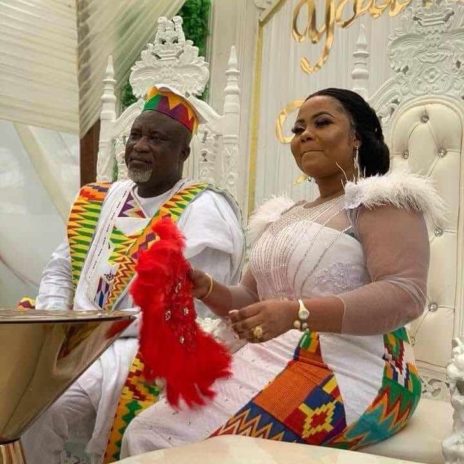 "When she told me that she was single, I was excited because I am a divorcee and had eyes for her the very day I met her at an event she had come to perform at.
"You know I saw a ring on her finger that day and was scared she may belong to someone so I kept quiet but once in a while; I called her to find out if she was doing well. It was on one of these occasions that I got the courage to ask if she was married and she answered no.
So trust me I did not want to waste any time at all because this was something I wanted the very day I set eyes on her so after a month of dating her, I went straight to do knocking and then thanks be to God, from October to December, here we are as husband and wife", he disclosed.
He also stated that he dated Gifty for only three months and decided to take the bold step by settling down with her.
"I can tell everyone here with all sincerity that my heart is at peace knowing I have her now. In fact, my children are very happy with us, they love her and her children love me too.
This is the work of God. Another thing is that she has never asked me for anything before, nothing and for me, it is a good thing."
There is no point in saying I am with someone and I am studying the person, one year, two years, what are you studying? You just have to be vigilant and if you like it, just go in for it", he noted.
ALSO READ: Social media users mock Yaa Jackson for typing 'cook' as "COKE"