Head of investigations at Multimedia Group limited Manasseh Azuri Awuni whose documentary titled "Militia in the heart of the nation" is currently been discussed by most radio and television station has been sued by the De-Eye Group.
The group is praying the Accra High Court for a declaration that the defendants, Manasseh, and the Multimedia Group retract the defamatory publication and render an unqualified apology to the plaintiff.
Also Read:
It would be recalled Joy News a week ago aired a documentary of
a supposed militant group affiliated to the ruling New Patriotic Party (NPP) that was allegedly receiving some form of military training at the Osu Castle.
The Joy News exposé done by award-winning journalist, Manasseh Azure Awuni, showed that the group has been using the Osu Castle a 'security zone' for training since the Akufo-Addo government was sworn in.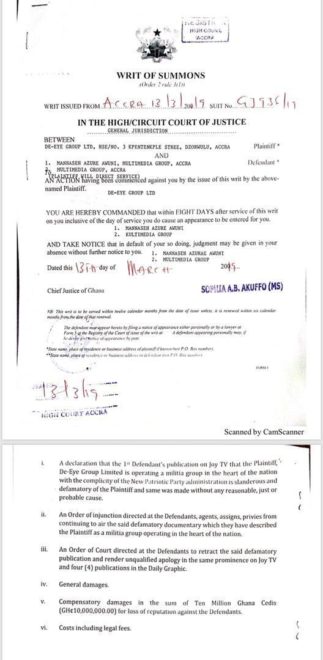 The group which is said to be led by Choman, a former personal bodyguard of President Nana Akufo-Addo and was described in 2012 as a "vigilante group" in a pro-government newspaper Daily Guide and affiliated to the ruling New Patriotic Party (NPP).