Ghpage.com has sighted a photo which happens to be the marriage certificate of the embattled wife of Asamoah Gyan, Gifty Gyan and her alleged Italian husband.
A lot of issues have popped up since news broke about the divorce filed by Asamoah Gyan, the Captain of Ghana Blackstars against his wife with whom he has three children with.
The one which shocked many Ghanaians was the fact that Gifty was already married to an Italian man on the basis that Asamoah Gyan couldn't support her financially to fly her abroad for a medical surgery which Asamoah Gyan himself agreed.
Read also: Asamoah Gyan's wife happily enjoy life with her children amid divorce
According to the report, the marriage took place when Gifty was only 16 years old but with the knowledge of Asamoah Gyan at a time, he couldn't afford to take his girlfriend(now wife) to the UK for a medical treatment in 2002.
The report further explains it became necessary for a contract marriage which Asamoah Gyan consented to because Gifty needed a UK visa in 2002 for a medical treatment and at that time, Asamoah was said to be 'broke' and with Liberty Professional, and so could not afford to take Gifty, then his girlfriend, to the UK without any assistance, therefore, he agreed on the 'marriage of convenience' to take place.
The supposed marriage certificate of Gifty and her Italian husband, which is in our possession now clarifies the notion that Gifty was truly married.
Read more: Asamoah Gyan to use wife for Illuminati sacrifice-Evangelist Addai alleges
According to the marriage Certificate, Gifty who is known as Sandra Gifty Gyamesi got married to her alleged husband Eugene Odame Antwi on 26th February 2002 at Tema Municipal Assembly.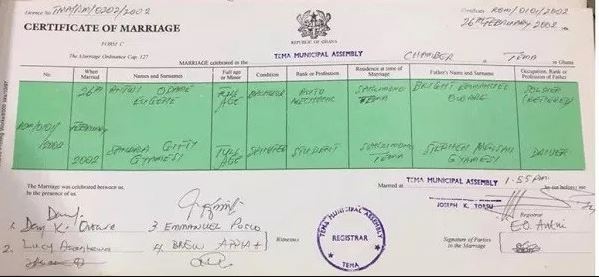 Gyan and Gifty have been together since 2003 and got married in 2013 after their second child was born.
Read also: Court orders Asamoah Gyan to remove Gifty Gyan's maiden name out of annulment application
However, through the influence of his brother, Baffour Gyan, the footballer has also denied being the father of their three children and subsequently demanding a DNA test to be carried out on all three to ascertain if he is the father of the kids.
Also, according to reports, the Kayserispor striker after filing for divorce in August 2018 is currently making preparation to marry an Accra-based businesswoman, Nina Atalah once his marriage to Gifty is annulled by the court.
Nina Atalah who is an ex-wife of jailed Jamaican act Buju Banton and has allegedly dated Stephen Appiah, John Dumelo, Ibrahim Mahama, among a host of high profile personalities was recently introduced as 'wife' of Asamoah Gyan at public appearances by the soccer superstar.
Read this: Asamoah Gyan denies filing for divorce with his wife Gifty