A man who is heartbroken has sorrowfully shed tears on Social media after he discovers the secret relationship between his newly wedded wife and her ex-boyfriend.
Obviously, the man who is identified on Facebook as Abogoh Luckyo month after wedding realized that his wife's pregnancy isn't his, but was pregnant with her ex-boyfriend.
The truth became well-known when the man finds out that his wife has been chatting with the ex-boyfriend, confessing her love for the man.
Mr. Luckyo in one of the post wrote;
"I can't believe that this is happening to me. This world is really a wicked place! Her parents knew that their Daughter's Boyfriend had gotten her pregnant yet they hid the information from me and duped hard me and my hard earned money into getting married to their daughter, only to start persuading me to undergo some goat-killing rituals so that all will be normal. Evil in this world is too much. Thank God I refused to do such Devil's sacrifices"
Before the sudden issue has popped out, he had initially shared a thank you post in December, thanking his family, bride's family, friends and colleagues for gracing his wedding.
Then he later shared photos of the alleged boyfriend and the paternity test he conducted on the pregnancy;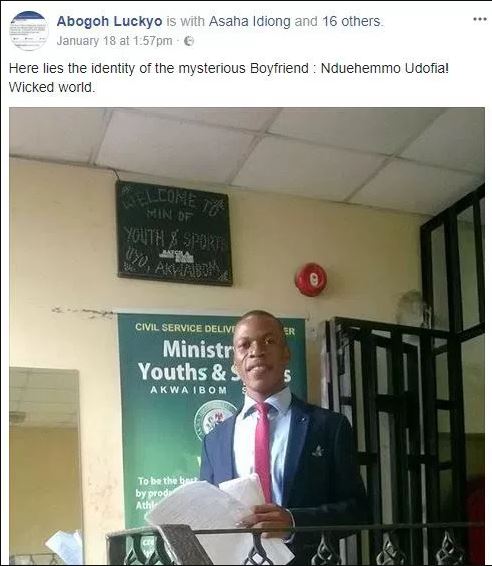 Lucky's elder brother, Favour Nkem Abogoh also spoke sadly about the situation;
SCROLL DOWN to NEXT PAGE and click to continue reading the story………