Then NCA has also issued a stern directive to Scancom PLC, operators of MTN Ghana to pithing 24hours submit a report on the issues it is facing to the regulator.
According to the NCA , MTN is required by law to notify the regulator anytime there are challenges, but it has failed to do that.
"The report should include: an explanation why the Authority was not informed of this challenge; the full nature of the issue; the number of affected customers and the remedial measures taken; how the issue will be prevented from occurring again in future," the NCA statement instructed.
Meanwhile, the Chief Executive Officer of MTN Ghana, Serlom Adadevoh at a press conference on Tuesday, December 3 said the company has fixed the challenges customers faced in relation to purchase of data bundles.
He attributed the challenge to a technical hitch, resulting from the implementation of the new tariffs.
Mr Adadevoh however, assured customers of the telco that, they will be duly compensated.
Read the full statement by the NCA below;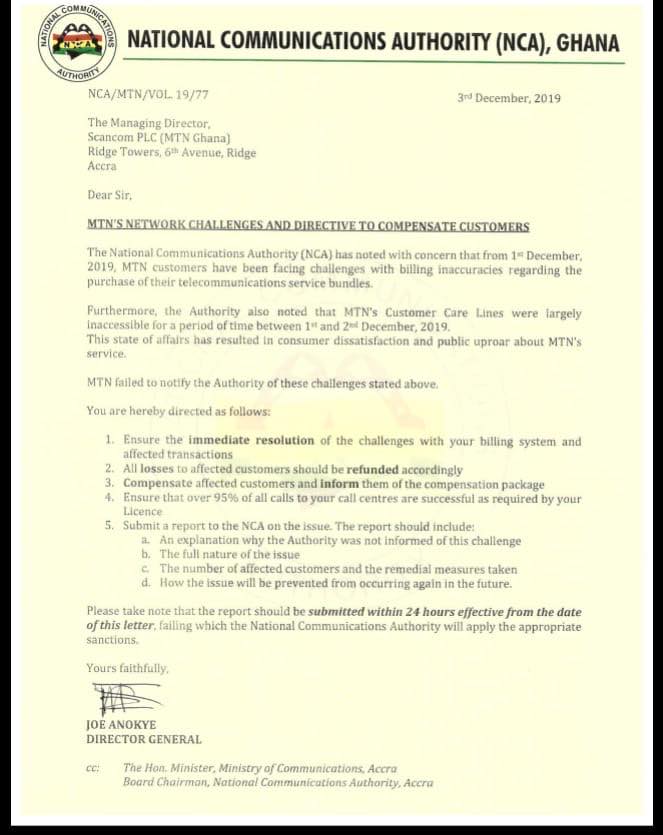 MTN Ghana customers in the last 48 hours could not buy data via mobile money and also some saw a massive reduction in the value and volume of data purchased.
Some customers on social media after experiencing and seeing the reduction in the data volume threatened to embark on a demonstration.