One Corner hitmaker Patapaa has reacted to American rapper Jay-Z after he said he does not charge for features.
Jay-Z had shockingly revealed in an interview that he does not charge for features. Thus, anybody who reaches out to him for a feature does not need to pay for him to be on it.
On Rap-Up, it was reported: Kevin Hart for Season 2 of Peacock's "Hart to Heart," the rap icon opened up about how he chooses his collaborations. Not surprisingly, he reveals that he is usually the one being asked to collaborate and his decisions are based on "mostly relationships."
"Pretty much every song that I'm on, I'm asked to be on. I don't ask people to be on their songs," said Hov.
And if you're one of the lucky few to get a JAY-Z feature, it won't cost you anything. "I never charge," he revealed.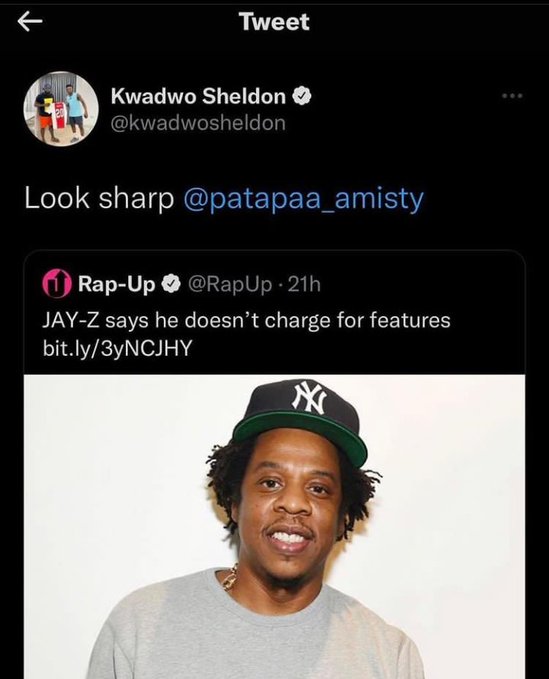 Patapaa in a reactionary post also suggested that he does not charge for his features.
This is after Patatapaa was told to seize the opportunity by linking up to Jay-Z for a feature.
Patapaa arrogantly said he also does not charge for features either. In turn, he meant, that Jay-Z could also reach out to him for a collabo.
@ama_etwepa1 wrote: I pray God grants me the Patapaa kind of confidence so that I can approach my crush today. I must get this guy n sleep with him at all cost
@KuameOliver wrote: Jay Z said he doesn't charge for features, dem tag Patapaa say make he look sharp aa, He say make Jay Z too look sharp cos he doesn't charge too atear.
@unrulyking wrote: Patapaa no dey charge for features wey sarkodie still no get hit song for years ?? Obidi please hit Patapezy up for some chorus and add your rap. We begging for this HIT