Yvonne Nelson is a beautiful and talented Ghanaian actress and a mother of one.
Early Life
The multiple award-winning actress, Yvonne Nelson was born on 12th November 1985 in Accra but of fante descent. She is also a model, film producer and an entrepreneur.
READ ALSO: Actress Yvonne Nelson takes Baby Ryn for a stroll
Education
Yvonne started her education at St. Martin De Porres school in Accra and later went to Aggrey Memorial Senior High School where she had her secondary education.
She further had her tertiary education at the Central University College where she currently has a degree in Human Resource Management.
Before Fame
The A-list actress participated in the 2005 Miss Ghana Beauty Pageant, where she won the talent segment with her performance of a self-written rap.
She also modelled for Maxim cosmetics.
READ ALSO: "I'm married now" -Yvonne Nelson tells fans
Family
Yvonne is believed to be the only child of Mr. O Nelson who passed away on January 24, 2017 and Margaret Gaddy.
The actress has not been close to her father because her mother played the role of a father when growing up and she never mentioned his name or shared an image of him publicly until his untimely demise.
Career
Yvonne played her first role in the movie Princess Tyra. She has many movies to her credit such as Blood is thick, Love War, Local Sense, Material Girl, Pool Party, Threesome, Folly, If Tomorrow Never Comes, Crime Suspect among others.
She produced her first movie The Price in 2011 and followed by Single and Married in 2012 and House of Gold in 2013.
Nollywood Breakthrough
Yvonne Nelson first featured in Nollywood in 2007 where she acted alongside Veteran Nigerian actress, Genevieve Nnaji which launched her career in Nollywood.
Since then, she has acted alongside many Nigerian actors such as Funke Akindele, Ramsey Nuoah, Dakore Egbuson and others.
READ ALSO: Don't kill yourself for politicians, they don't care about you.
Awards
The actress has bagged many awards which include the Stars Best Actress at the 2009 Joy Nite Fm Awards, Favorite Actress at the 2010 Ghana Movie Awards, Best Ghanaian Actress at the City People Awards, Best Picture at the 2012 Ghana Music Awards and Most Stylish Movie Actor at the Glitz Styles Awards.
Marriage
Yvonne Nelson is not married yet but has a daughter with Jamie Roberts, a British photographer named Ryn Roberts.
Ryn was born on 29th October 2017. It was alleged that Jamie was already married with children but Yvonne debunked these rumours. "He is not married but has two kids from his previous marriage", she stated.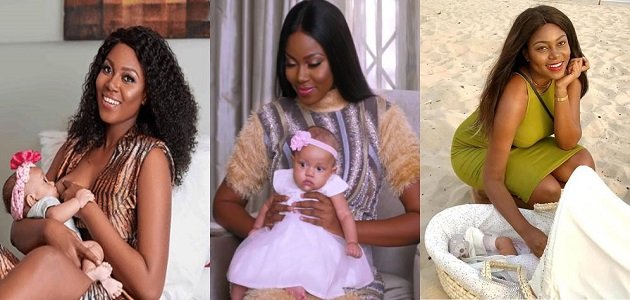 Philanthropy Work
She founded the Yvonne Nelson Glaucoma Foundation in 2010 to help create awareness about the disease. With support from other actresses, she recorded an all-star charity single and shot a video to help educate people about the causes of Glaucoma.
As a result of her philanthropic activities, she was honoured in 2013 by GoWoman Magazine and Printex for her foundation and film career.