Since the beginning of the year, several men of God have prophecied about the death that would befall some prominent people in the country and as well as some celebrities including Shatta Wale and recently about Ruff Town signee Wendy Shay.
Well, last Saturday the leader of Zion Miracle Worship Center Prophet Adom in his church stated that the SM boss would have an accident and die on 24th December 2018 unless he changes his behavior.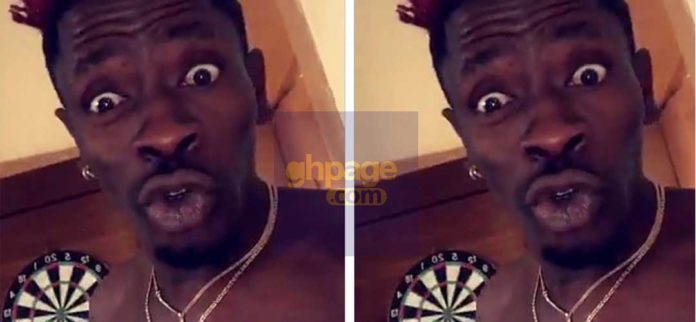 Also Read: Shatta Wale to die in an accident on 24th December – Prophet Adom
He said: "God said I should tell Shatta Wale, If he's not very careful, December, he will die in an accident, Amen…. Today is first December, He said I should tell Shatta Wale if he's not very careful 24th he will be involved in an accident, this month",
Finally, the SM boss has reacted to this prophecy by the Prophet and has vented his anger on the preacher to shut the "f" up.
He posted:
Also Read: 7 Popular Ghanaian Celebrities Who Are Currently Battling Death Prophecies From GH Prophets
"YOU DO NOT KNOW GOD !!!! JUST SHUT UP !!! SHUT THE FUCK UP !!! 
If you believe in yourself , you will always have that Shatta Wale spirit and tell ppl if you fool ago discipline you rough rough and the worst that will happen is police go arrest me but I don't care cuz sincerely from my heart I know what I might have fought for !!! Cuz you see man deh try this BEAST over here and I repeat when I start , no man will stop me cuz I will fight with equal rights and justice as my HEAD TOPIC !!!!This is going on , no one is talking ,some will say ignore but I know how to start and finish .People are suffering in the system and all we have is RELIGIOUS MEN CREATING FOOLISH PANIC.. Ok I will do what I have to do to set that example always as usual so that what can come can come cuz nobody cares..Let whatever happen when I start I am ready to fight that course to change our motherland …Ghana don't dare me and Don't dare God !!!! CHIEF MUSICIAN DAVID FROM THE BIBLE HAS SPOKEN !!!#Youthpresident #YP #Ghanaisafuckenstupidvillage and #Iwillchangeitintoadamnfuckencity ISAID IT !!!!!.."
See his post below:
SEE MORE: 'I will burn down churches if I don't die by December ~ Shatta Wale warns Ghanaian Pastors