The mother of Aisha, the embattled young girl whose seks video has been leaked online has broken her silence in a chat with Aisha's friend.
The woman has revealed they have filed a case at the police station against the 3 boys who f*ck, recorded and leaked online her daughter's video. The woman also tearfully begged the friend to help Aisha.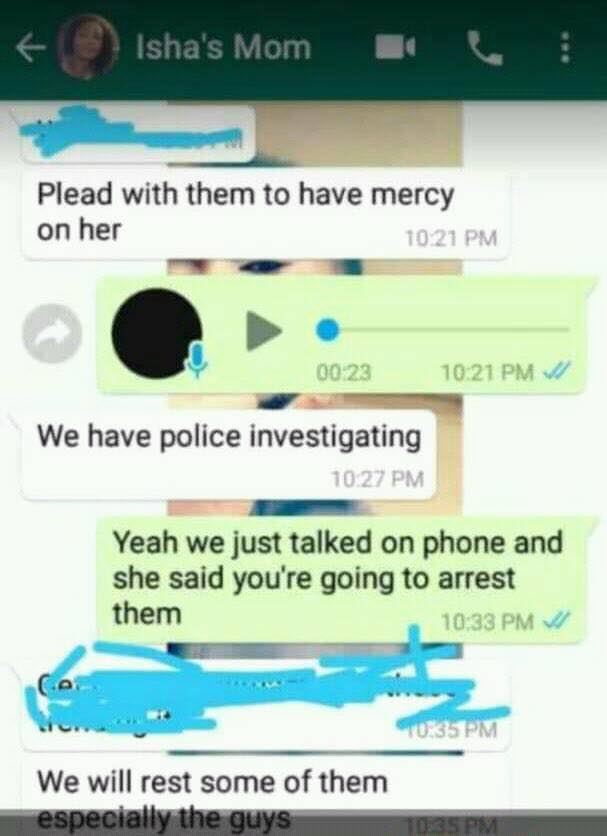 WATCH HERE: Seks tape of 3 boys chopping a St. Louise SHS girl leaks online and Ghpage.com has the video [Watch]
A video of a young lady identified as Aisha went viral today. She was captured in video sleeping with 3 men at the same time.
According to the lady, she was not aware such a video existed until her mother sent it to her. She has been identified as an old student of St. Louise SHS although we can't confirm that now.
SEE HERE: Aisha, the St. Louis SHS girl in the latest leaked Atopa video finally speaks out [Audio+Video]
Well, her mother is threatening court action and Ghpage.com is following the news and will update more shortly.
But we have also picked up a new twist to how the video got leaked, we will update you more on it soon. We are trying to verify it first. Stay with us.
SEE ALSO: Here are photos of Aisha, the St. Louis SHS girl whose Atopa video with 3 boys has been leaked on social media [See Photos]