Ghanaian sensational dancehall artiste Ebony Reigns is set to meet her creator today, March 24, as family members, loved ones and sympathizers from all angles bid her farewell at the forecourt of the State House in Accra.
Thousands of people including high profile personalities have been recorded to be gathered at the forecourt of the State House in Accra to mark the final funeral rites of dancehall artiste.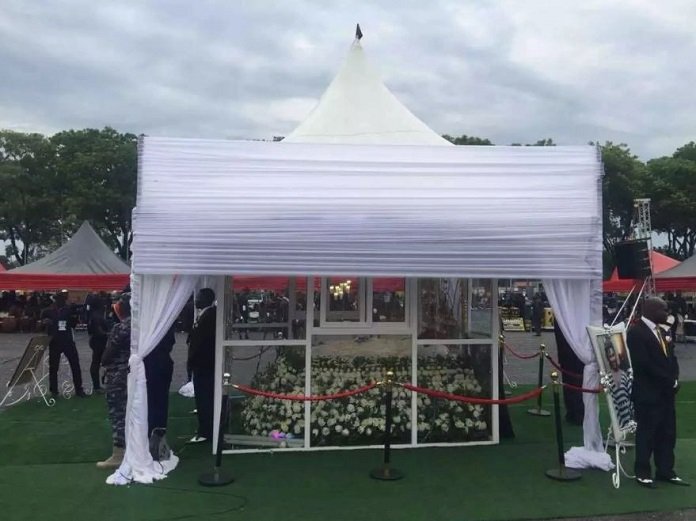 Ebony met her fate upon her return from her mother as she was traveling to Accra to prepare for her event trip in Abroad together with her soldier bodyguard, Atsu Vondee and her friend and make-up artist, Franky Kuri.
After the sudden demise of Ebony Reigns and her two accompanies, there have been several reports, controversies, and questions regarding what led to her sudden demise and how it even happened.
As a matter of Ghanaians interest, Ghpage.com has compiled five crucial and important questions that have not been answered and still needs to be clarified.
1. When did Ebony truly die?
Did Ebony die on Thursday night or Friday morning? Since the death of Ebony and her colleagues, different media reports had opposite information regarding the day the dancehall artiste actually died.
Some reports submitted that she died on Thursday at around 10.30pm while others said she died on Friday dawn.
Numerous reports with different accounts, but here is what police statement says; Ebony and the two others in the jeep lost their lives on Thursday night, after their car collided with an oncoming VIP bus, when their driver tried to avoid a heap of sand in their lane.
2. Was the speed the cause or the pothole or the heap of sand packed at the roadside?
It is still not known whether the heap of sand caused the accident or the pothole or the speed of the car.
What has been made known according to the driver is that the accident occurred when he made a quick move to save a Sprinter bus, which he said was speeding.
3. Did she travel to the Northern Region?
Several media reports that emerged after her death suggested that the late Ebony Reigns was coming from the Northern Region and not from her mother's place after it was revealed by her management team.
However, this may not be taken as a fact as there is a video evidence that clearly shows she was with her mother few hours before her death.
Her mother has also confirmed that she was with her daughter and had even asked her to sleep over.
4. Did her management team prevent her from traveling?
The management team of the late Ebony Reigns denied knowing something about her trip to Sunyani which led to her unfortunate death.
The head of management and CEO of Ruff Town Records, Ricky Nana Agyemang (Bullet), disclosed this sometime ago that the 'Sponsor' hitmaker only informed the team about a trip she wanted to embark on to Tamale in the Northern Region.
He stated that the management, therefore, was shocked to hear of her trip to Sunyani which eventually caused her life.
5. Was she traveling to Europe?
This baffling question is clear to answer, Yes!. The late dancehall diva was set to feature in the Ghana Meets Naija big event which was held in Belgium in two days until her unfortunate demise.
Ebony Reigns died on one of the happiest days of her life as she had gone to meet her long-time seen mother after so many years.
WATCH

– Self-proclaimed Ebony look-alike take turns to perform at #Ebonytributeconcert happening now inside
Subscribe to watch new videos