The New Yaa-Naa, the overlord of Dagbon, Yo-Naa Abukari Mahama II has received a customized luxury Jaguar saloon car from the president of Ghana, Nana Addo Dankwah Akufo-Addo at his coronation in Yendi, today 25th January 2019.
The Jaguar Ghpage.com gathered was towed from Accra on the instruction of the first gentleman of Ghana to Yendi and was officially handed over to the new Yaa-Naa at the coronation.
SEE ALSO: Nana Addo's 'Gringo' dressing to Ya'Naa's coronation goes viral on the internet
The Coronation of the New Yaa-Naa, Yo-Naa Abukari Mahama II took place at the forecourt of the Gbewaa Palace in Yendi. The new Yaa-Naa after his coronation became the 42nd Overlord of the Dagbon people of Northern Ghana.
The Kingmakers of Dagbon on 18th January 2019 settled on Yo-Naa Abukari Mahama II as the new overlord of Dagbon after consulting with the oracles of the land.
He was selected from four others who equally qualified to be the overlord. They were, Nyab Tampion-Lana, Nyab Kampakuya-Naa, and Nyab Boling-Lana and the elected Yaa-Naa, Yo-Naa Abukari Mahama II.
SEE ALSO: You're a disgrace for apologizing to Chief Imam-Opambour blasts Bempah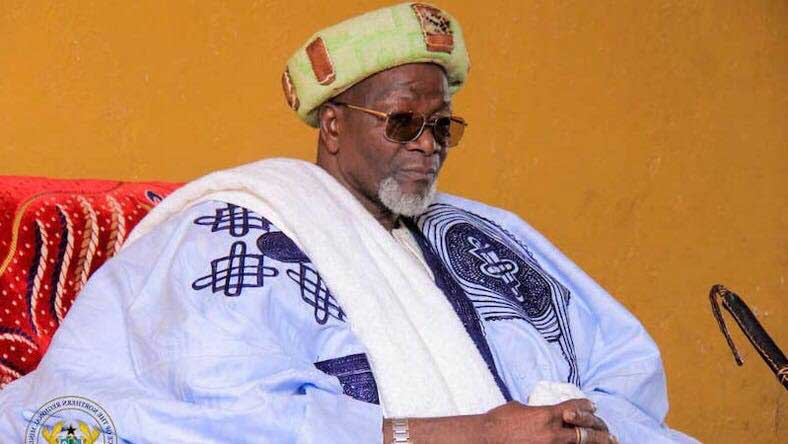 All the feuding parties agreed and accepted the new Yaa-Naa as their overlord. After 17 years peace finally arrived in Dagbon.
In his speech which was read on his behalf at the well-attended coronation ceremony, the new overlord promised to bring development to Dagbon.
SEE ALSO: It's insane for Ken Agyapong to blame Anas for Ahmed's death – Karen Attiah
The event was attended by the president of Ghana, Nana Addo Dankwah Akufo-Addo, former president Jerry John Rawlings and John Dramani Mahama.
The representative of Otumfuor Osei Tutu II, the ruler of the Ashanti Kindom who made the peace in Dagbon possible was also present to witness the coronation of the new Yaa-Naa.