Gorgeous TV and Radio Personality, Berla Addardey popularly known as Berla Mundi has finally cried out that she needs a man in his life.
Berla Mundi is known to be one of the amazing, beautiful and talented media personality and also regarded as one of the best in the entertainment industry. Much is known about her public life but almost nothing about her private life.
SEE THIS: Media Gurus Wanted To $3x Me In Exchange Of Jobs-Berla Mundi Exposes
Many are those who are crushing on her from afar, fearful of approaching her since many have concluded she is already dating considering how beautiful and smart she is.
Well, Berla Mundi says she is not and in fact, she needs a man in her life to rub her shoulders before and after work. Berla took to Twitter to tweet about her desires. She tweeted:
SEE ALSO: "You have lights now, instead of using it to find your president's left kidney, you guys dey here dey insult Wale" – Ghanaians charge on Wizkid fans
"I'm tired. It's time I found a bae to be rubbing my back every morning before work"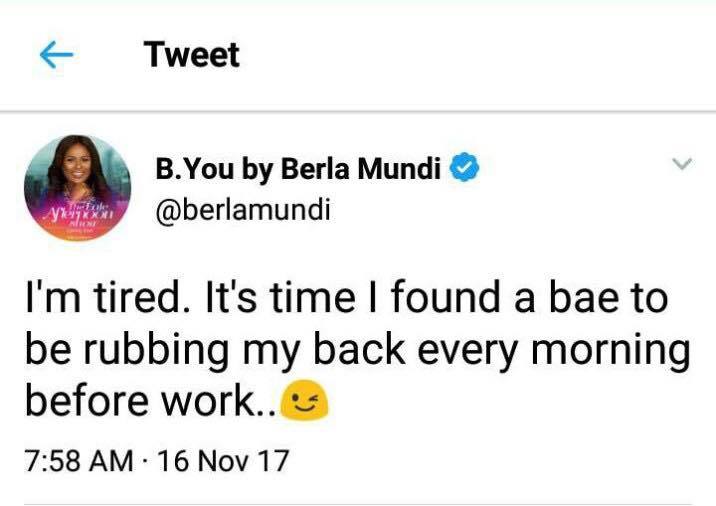 So for all those crushing on her, be bold and take the shot, you may be lucky.
SEE ALSO: A Ghanaian lady narrates how a 'celebrity' broke her heart into pieces after spending all her life savings to help him rise to the top(Screenshots)