Over the past week, a lot has been said about Aisha, the St. Louis SHS graduate whose s*x video with 3 men got leaked last week. Many people have come out to condemn the young girl but the 'Child President's advise for Aisha is already going viral on social media.
According to the less than 10-year-old girl who calls herself the "Child President", Aisha fell for this act out of youthful exuberance and she would never have even allowed it if she knew the repercussions.
SEE HERE: Atopa video of 3 boys 'chopping' a St. Louis SHS girl
She advised Ghanaians to stop condemning the young because it's out of mistakes that life lessons are learned. She used the opportunity to advise the youth to make their goals their priorities and not their desires. She went on to talk about the problems with letting your desire lead as a youth.
One thing was clear from her summary, the Child President unlike the many others never condemned Aisha. She had nothing but encouragement for her and advise for others who are walking the same path as Aisha did.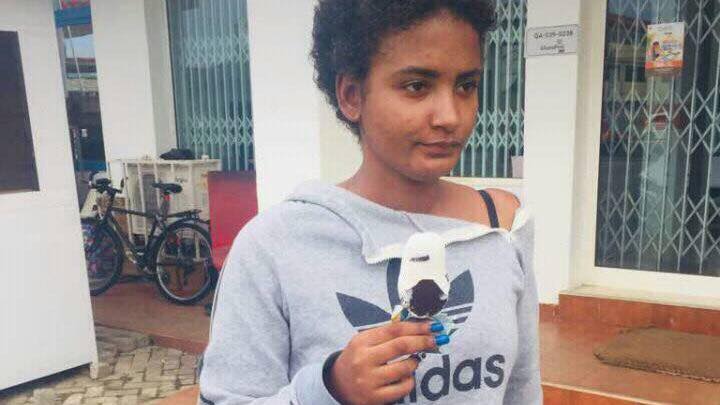 SEE more: Photos of Aisha, the girl whose Atopa video with 3 boys has been released onine
Aisha's video got leaked almost a week ago an from what Ghpage.com gathered from a friend of the boy who leaked the video, Aisha was enjoying herself with her boyfriend and his friend entered the room uninvited.
She forced himself on her after she threatened the guy. Later another guy also entered holding a phone that he had recorded everything and demanded to also have s*x with her.
SEE ALSO: Part 2 of Aisha, the St.Louis SHS girl's Atopa video pops up
It was the third guy with the camera who allegedly leaked the video after Aisha decided not to sleep with him again ever since she recorded the video a year ago.
The Child President is a young girl fast gaining prominence on social media. She talks about trending issues in Ghana.
SEE ALSO: Mother of Aisha, St. Louis SHS girl in the released Atopa video speaks
She perfectly addresses these issues as a president will and mostly with the brain of an adult. She is incredibly smart and pretty too.
WATCH THE VIDEO BELOW
SEE ALSO: Aisha, the St. Louis SHS girl in the released Atopa video speaks