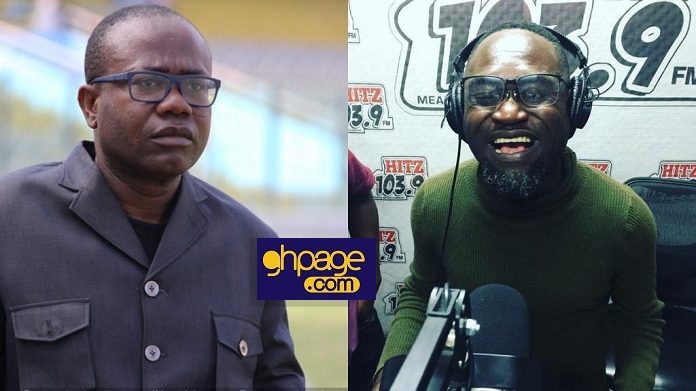 After the Nyantakyi Arrest following the corrupt investigation which was undertaken by the ace investigative journalist,

Anas Aremeyaw Anas into the Ghana Football Association

one person whose name has been on the lips of every Ghanaian is maverick Ghanaians sports presenter, Patrick Osei Agyeman popularly known as Countryman Songo.
Countryman Songo has for years been on the neck of the president of GFA Mr. Kwesi Nyantakyi labeling him as a corrupt leader who is destroying Ghana football with his corrupt activities.
SEE ALSO: Call For Kwesi Nyantakyi's Arrest: Presidency Breached Confidentiality Agreement With Anas And BBC – Kweku Baako
Recently it became public knowledge that Countryman Songo has lost his job with Multimedia following threats of further court case against the media company.
Well, it appears he has been vindicated at long last and Countryman Songo believes God should be glorified for showing the world he was always right.
SEE ALSO: Words Of Kwesi Nyantakyi Captured In Anas' Latest Exposé Revealed
In his first interview after Nyantakyi arrest, Countryman Songo explained why he has not been seen around in the media lately and how he feels about the Nyantakyi arrest.
According to the controversial sports presenter, he was out of the country to be with his family who needed him. He said:
SEE ALSO: Photos: Countryman Songo 'clash' to unite with Kwesi Nyantakyi at KABA's One-week Observation
"I've been with my family. I have kids and a wife and they need me sometimes so it's fun to be with them."
When asked about how he feels about the arrest of Kwesi Nyantakyi the GFA president on corrupt charges, Countryman Songo simply said: "To God be the Glory." And refused to further comment.
Stay with Ghpage.com as we will update you more shortly
WATCH THE INTERVIEW BELOW
SEE ALSO: Reasons why Akufo-Addo Ordered Kwesi Nyantakyi's arrest