A 7-year-old Emmanuel Ameyaw is currently battling for his life at the Komfo Anokye Teaching Hospital from a rare skin disease after taking a medicine prescribed by a doctor.
According to the father, Emmanuel Ameyaw was taken to Sefwi Akontombra Government Hospital after a short illness and it was there the doctor on duty prescribed some medicine for the boy.
SEE ALSO: 21-yr-old girl applies makeup each day for 4 years just to hide her skin condition
His father told Ultimate FM's Ivan Heathcote Fumador that his son's 'strange disease' started after the boy took the prescribed medication given by the doctor.
Now healthy Emmanuel Ameyaw's has painful blisters from his head to toe with the skin peeling off from some parts of his body. His sore eyes appear to be popping out of the socket and his unable to talk or walk.
SEE ALSO: SHOCKING: Pregnant Women In Ghana Now Take Pills To 'Bleach' Unborn Babies' Skin
Doctors at Komfo Anokye Teaching Hospital in Kumasi has identified the diseases as Stevens-Johnson syndrome.
The doctors are now battling to save Emmanuel Ameyaw's life having identified the cause of the "Strange disease".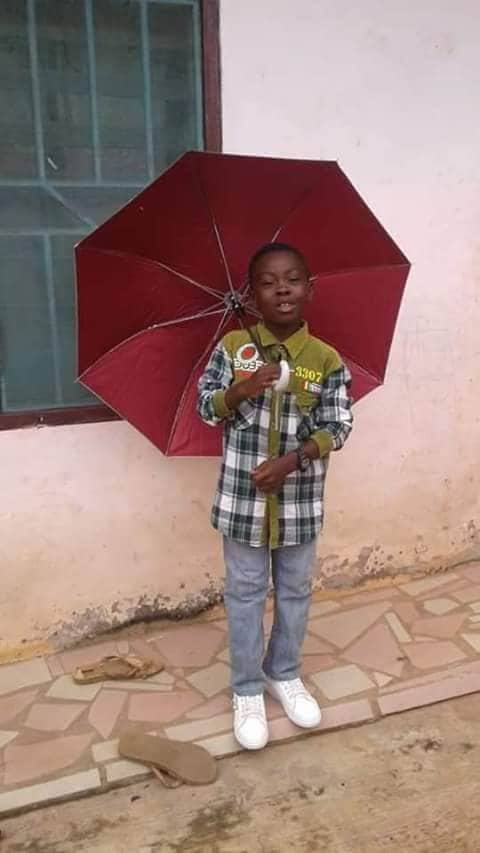 About Stevens-Johnson syndrome
Stevens-Johnson syndrome is a rare, serious disorder of your skin and mucous membranes. It's usually a reaction to a medication or an infection. Often, it begins with flu-like symptoms, followed by a painful red or purplish rash that spreads and blisters. Then the top layer of the affected skin dies, sheds and then heals.
Stevens-Johnson syndrome is a medical emergency that usually requires hospitalization. Treatment focuses on eliminating the underlying cause, controlling symptoms and minimizing complications as your skin regrows.
Recovery after Stevens-Johnson syndrome can take weeks to months, depending on the severity of your condition. If it was caused by a medication, you'll need to permanently avoid that drug and others closely related to it.
SEE ALSO: "I Almost Committed Suicide Because Of My Tribal Marks" – Pretty Fashionista