A Facebook user identified as GH Junior has professed to become a new boyfriend to Afia Schwarzenegger and probably marry her but on condition.
According to Gh Junior, he really wants to marry Afia, but he demanded to know her level, frequency, and method of drinking alcohol and smoking 'weed'.
He made his proposal when he was reacting to a post Afia Schwar made after engaging in a fight with her ex-boyfriend's mother.
Afia posted: "Marriage is not by force and no one can force me to marry their clown." 
"Queen Afia Schwar I beg i want to marry u but I want to know first if u smoke weed and drink at the same time , or u mix the two together or one after the other," Afia's admirer queried.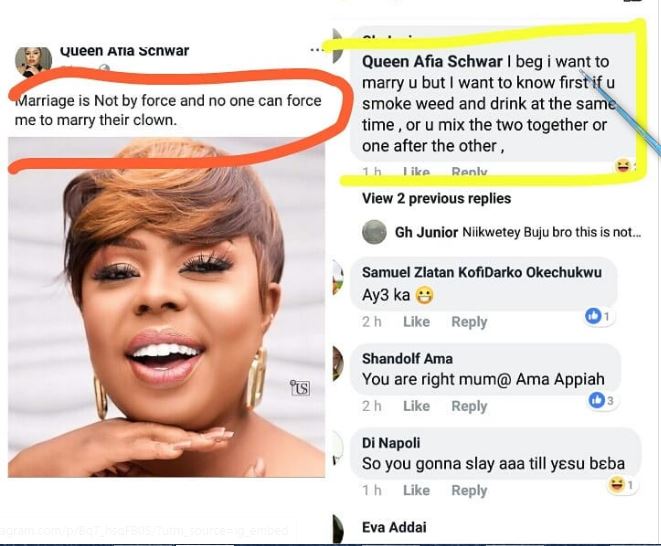 Gh Junior's offer comes after Afia's ex-boyfriend's mother reportedly canceled her wedding which was supposed to be held this December.
The woman was reported to have canceled the wedding over insults Afia hurled at Nana Appiah Mensah (NAM 1), the CEO of Menzgold.
According to reports, the mother of the ex-boyfriend has invested GHC4.3 million with Menzgold and she felt Afia could use her connections to get her money back.
But Afia waywardly started hurling insults at NAM1 which she and her son warned her to put a stop to it but she refused.