Get Ghana Latest News in your inbox each morning.
SUBSCRIBE
Ghanaian highlife legend Kojo Antwi has launched a gofundme account on social media to solicit funds to bury his late father.
The father of the musician Opanin Kwadwo Asiama Asubonten kicked the bucket on January 2, 2023, at the Police Hospital in Accra at age 104.
A few days ago, the music Maestro and his family held a forty-days celebration where some plans towards the funeral were disclosed.
Also Read: IGP Dr George Akufo Dampare bows as he meets Legendary Kojo Antwi for the first time
After the celebration, the music maestro launched a gofundme account to get support from his followers and fans scattered all around the world.
The account is seeking to raise an amount of a million euros from well-wishers.
According to the details of the account, the money is going to be used for scholarships and care for a selection of orphans and the disabled in Ghana.
The details read; "In memory of my late kind father, this GoFundMe is for scholarships and care for a selection of orphans and the disabled in Ghana from now up till they graduate or learn a trade. – With love and togetherness from The Maestro Kojo Antwi."
Also Read: Kojo Antwi walks his biggest fan down the aisle on her wedding day
See the screenshot of the post below: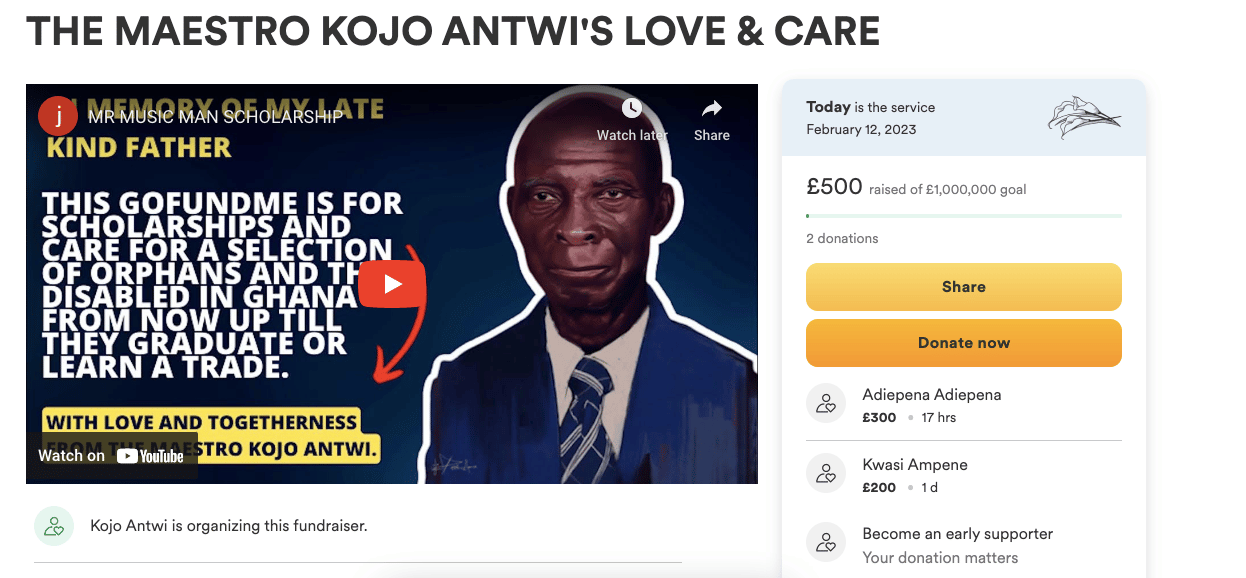 Read More: Daddy Lumba & Kojo Antwi are not highlife Musicians- Gyedu Blay Ambolley