A young mother of one has reportedly murdered her own 3-year-old son because her new boyfriend didn't want to settle down with a born 1.
A Facebook user identified as Ayoki disclosed this on the platform in a very emotional state.

As detailed by Ayoki, in his now-viral post, the unfortunate incident happened in Obunga, Kisumu County, and the woman has been arrested and taken into custody.

A lady in her twenties from Obunga strangled to death her three-year-old son and dumped the body in Kanyakwar Quarry. Locals who saw her raised an alarm when she tried to escape.
She was arrested by the area chief and booked into the Obunga police station. It is said that the lady was frustrated with life and was about to move in with a new boyfriend who didn't want a child. She then thought it wise to take her child's life," he wrote on his timeline Facebook.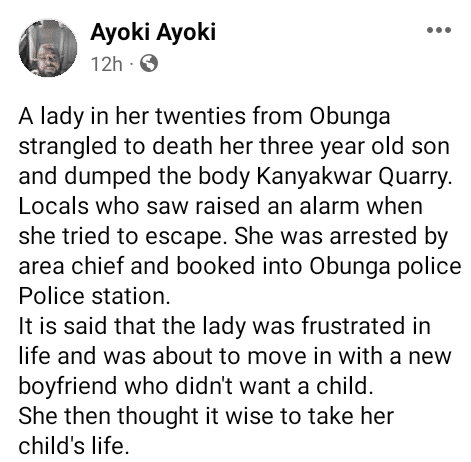 Below are some of the reactions gathered under the sad story…
Ruth Recho – People take these love promises too seriously. If you think you must do away with your child to be loved, just find a relative who can stay with the child, do your best to support as you monitor the relationship. These relationships fail but once a damage is done. There is no reverse gear. God have mercy!
I care. Speak up  – So sad, your child should always be your first priority no matter what.She has now lost the man and the child and probably she's gonna spend the rest of her life in prison.
Eva Amondi – They had probably planned it with the said boyfriendHe needs to be interrogated too.
Queen Jeilan – The way my son loves me…i can not imagine choosing anyone before him…. your child should come first….. people may come and go..but your child/children….nah…nah….they stick with you through it all…. choose them always.
Evans Ogwanjo Oudia – When you buy a home theater, you carry the speakers home. Most men don't understand this simple logic.