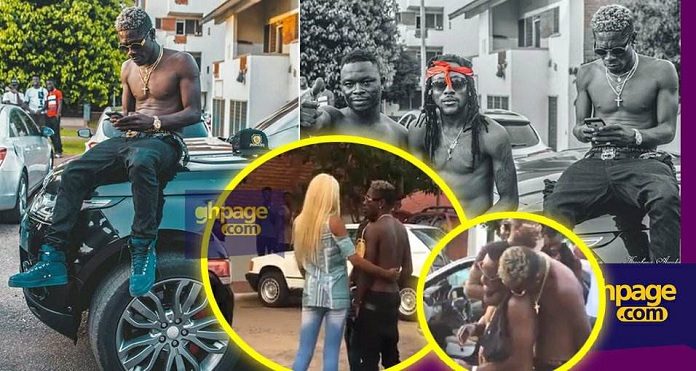 Shatta Wale recently paid a visit to a lady at the Pent Hall at the University of Ghana and the video from Shatta Wale's visit is already going viral.
The self-acclaimed Dancehall King, Charles Nii Armah Mensah aka Shatta Wale was accompanied by a long and massive display of convoy.
SEE ALSO: Photo: Shatta Michy releases a 'Swollen-faced' photo to prove that indeed Shatta Wale has been beating her
As soon as Shatta Wale entered the Unversity of Ghana campus with his convoy, he attracted a huge crowd, not only because of his superstar status but also because of his long convoy which could not be ignored.
Due to the fact that Shatta Wale and Shatta Michy have been 'fighting' in the media for a while now, his visit to a 'girl' at the Pent Hall sparked some affair rumors.
SEE ALSO: All Is Not Well: Shatta Wale Beats Up Shatta Michy And She Nearly Stabbed Him In Anger
So Ghpage.com went digging. We found out that the girl, Shatta Wale went to visit at the Pent Hall is actually his cousin and not his lover as being speculated.
Shatta Wale's journey to the Pent Hall has proven one thing: Indeed, he is the artist with the biggest followers in Ghana.
SEE ALSO: Video:'Shatta Michy or whatever you call yourself,I will beat you like my step Child,You were lucky bouncers Stopped me' -Dotty Lana
WATCH VIDEO
SEE ALSO: Not Just Ibrah One Arrested; These Are The 9 Big Men Arrested In The Money Laundering Scam So Far