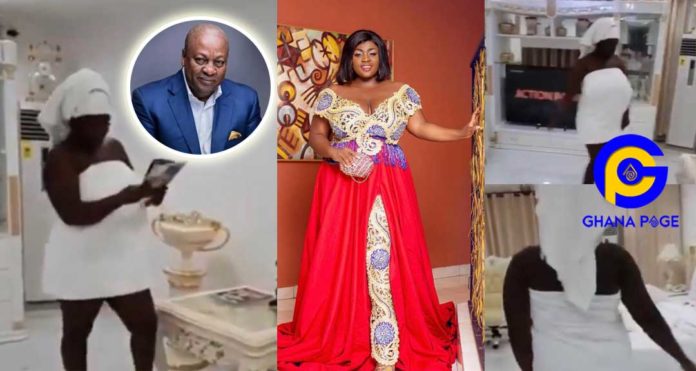 Tracey Boakye, the popular Kumawood actress and die-hard supporter of John Mahama, has just put her entire magnificent bedroom and hall on display in a rare video covered with nothing but just a towel.
In the one-minute video which is trending online, Tracey Boakye is wearing a white towel possibly with nothing beneath it as she models for the camera.
SEE ALSO: Rev.Obofuor displays Rolls Royce Phantom 2019 and Trassaco mansion
She gave a tour of her magnificent bedroom to show how elegant it looks before moving on to her sitting room to show how well it is decorated.
WATCH THE VIDEO BELOW
It will interest you to know that, it the same house which was allegedly bought for her by the former president of Ghana, John Dramani Mahama who is now the current presidential candidate for the biggest opposition party, NDC.
Prior to the 2016 General election where several showbiz personalities pledge their support for John Mahama who was the sitting president, he allegedly bought these celebrities some expensive properties as "thank you for supporting him".
SEE ALSO: I never snatched Tracey Boakye's boyfriend – Safina Haroun
John Mahama allegedly bought John Dumelo two V8 vehicles. One V8 for Afia Schwarzenegger which she sold and bought her current 3 bedroom house. Tracey Boakye also got the house she calls "Shakira" as a gift from JM.