Togbi Agemenua and fetish priests from Klikor-Afegame in the Volta Region of Ghana, the home town of Fella Makafui has sent a strong warning to Medikal to be careful how he is treating Fella Makafui morning or face their wrath.
According to the chief who reached out to Medikal's friend to send the message to Medikal, they have been observing with worry how Medikal has been treating their daughter.
SEE ALSO: Fella Makafui finally reacts to rumors of Medikal sleeping with her sister, Fendy – Here is what she has to say
He warned that the eyes of the people and the gods are on Medikal and he should stand well if he continues to mess up with their daughter.
Read the chat below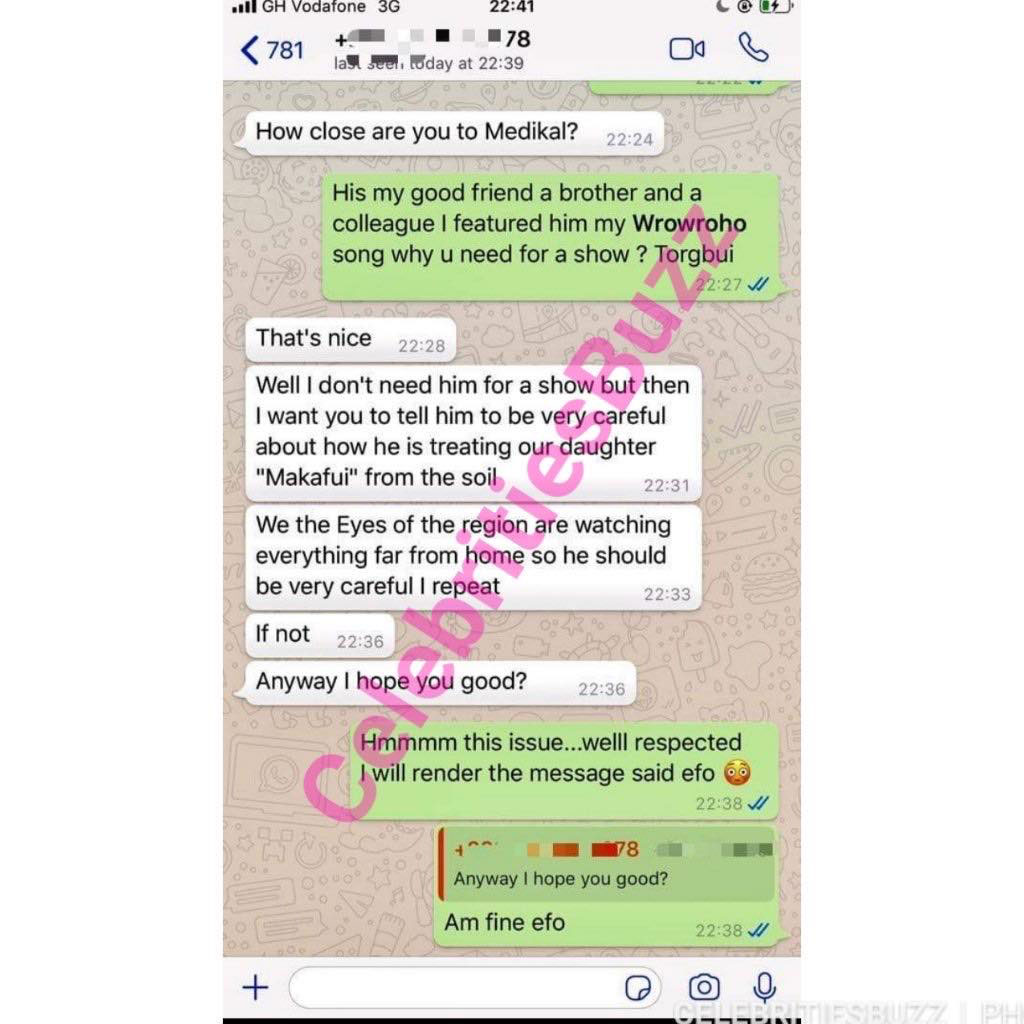 SEE ALSO: Chantelle, Lady who set up Kan Dapaah finally speaks- Tells her side of the story (Screenshot)
Just 13 months after Fella Makafui snatched Medikal from Sister Derby, the relationship has come to an end.
It's still mysterious what caused the breakup but it's been alleged that Medikal cheated Fella. Some even alleged he cheated with Fendy, Fella Makafui's Sister but that story has been shut down by Makafui.
SEE ALSO: Sad video of Fella Makafui sacking Medikal and Criss Waddle from her shop like dogs goes viral (Watch)
Medikal has now released an apology song to Fella Makafui to forgive him for his faults but she says no.
We can now say it is officially done over between Fella Makafui and Medikal. We wish them well in their next relationship.
SEE ALSO: She is a mother of 3 and close friend of Nana Aba and bridesmaid at Becca's wedding – More details of Slay Queen who leaked Kan Dapaah's Tape (Photos, Video)
Ghpage.com is observing and we will keep you updated. Stay with us for all your celebrities updates