The president of Ghana, Nana Addo Dankwah Akufo Addo ordered the arrest of the president of Ghana Football Association, Mr Kwesi Nyantakyi for fraud yesterday.
According to reports gathered by Ghpage.com, Kwesi Nyantakyi was using the name of the president and the vice president to extort money from football investors.
In all of this brouhaha, popular sports journalist Patrick Osei Agyemang popularly known as Countryman Songo who used to host a football show 'Fire for Fire' on Adom TV until his suspension has always been critical when it comes to issues relating to the GFA president.
READ ALSO: How Ghanaians Reacted To The Order Of Kwesi Nyantakyi's Arrest By The President
Songo is reported to have been suspended after discussing issues relating to Nyantakyi when he had been warned not to.
However, Songo has had a lot of moments on the show for a perfect reaction to this development.
READ ALSO: Countryman Songo's and Kwesi Nyantakyi unite with a dance (Video)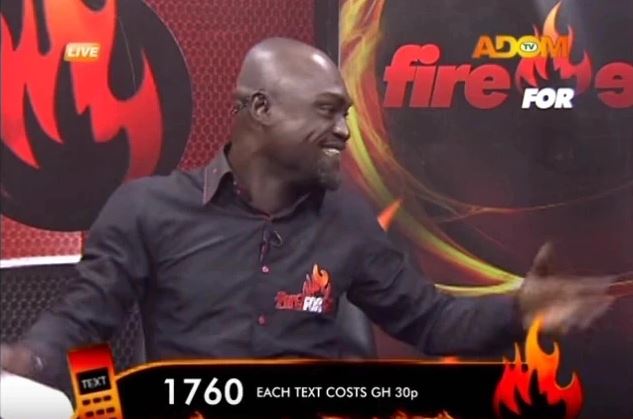 READ THIS: WORDS OF KWESI NYANTAKYI CAPTURED IN ANAS' LATEST EXPOSÉ REVEALED
READ MORE: ANAS' YET-TO-BE-RELEASED EXPOSÉ CAPTURES NANA ADDO AND BAWUMIA – KWAMI SEFA ALLEGES
READ THIS TOO: Reasons why Akufo-Addo Ordered Kwesi Nyantakyi's arrest