'Doomsday' prophet, Stephen K Adom of Zion Miracle Worship center is back again with yet another doom prophecy on controversial television host and comedienne Valentina Agyeiwaa aka Afia Schwarzenegger.
The prophet who was reacting to Afia's insults on him —for the second time— after he came out to prophecy about how Afia went to see a ritualist for protection, said if she does not have a change of mind, from this year to March 2019, her mother will die.
He said, her mother's death will be as a result of where Afia Schwarzenneger went to get her spiritual powers. Which he continued that, those spirits Afia resorted to, will demand the life of her mother.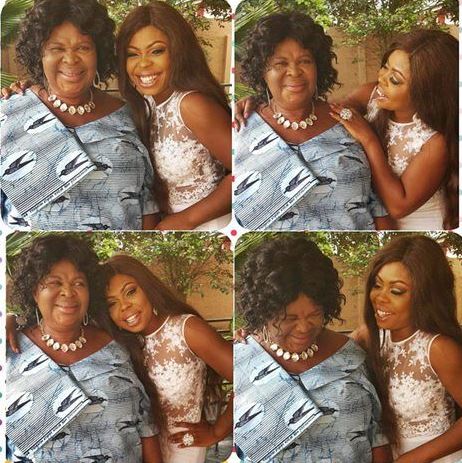 READ ALSO: Angry Afia Schwarzenegger threatens to burn church of the pastor who prophesied her death
He advised Afia to be respectful because she is nothing.
He added that Afia Schwarzenegger is facing different shades of problems as he could see one of her children is suffering from illness.
He also said that Afia has been put on a medication because she is suffering from some illness.
READ ALSO: Ebony's only brother will die if the family fight with Bullet for her property – Prophet
The Brong Ahafo based prophet added that he doesn't understand why Ghanaians criticise prophets who prophecises doom but do not praise them when they give a good prophecy — which he made reference to Rev Owusu Bempah's prophecies.
In what seems to be a reply to each and every 'notable' person who had spoken against the prophet or his prophecies, he continued to dish out to one Nana Yaa Achiaa whom he advised to desist from her disrespectable behavior as he can see she is even going through problems.
To Daddy Fred of the announcer newspaper, he told him to stop talking gibberish about him.
"You are even suffering from a waist problem. You are having problems in your relationship because you are weak in bed". He said about Daddy Fred.
He took a turn on Evangelist Addai whom he advised to say only nothing but the truth.
Watch the video below;
Stephen K Adom had already warned that if Afia Schwar does not stop depending on other spirits for protection she was going to die.
Incensed by the prophecy, Afia Schwarzenegger came out to attack him for his predictions.
But it looks like Schwar's attack on him did not move Prophet Adom who came out with more details about the wild prophecy.
In a subsequent video posted by GHPAGE.com, Prophet Adom said that Afia Schwarzenegger would get sick and be taken to the prayer camp of Prophet Ebenezer Adarkwa Opambour Yiadom the leader of the Ebenezer Miracle Worship Center and that is where she would eventually die.
Prophet Adom further stated that God revealed to him Afia on March 3, 2000, went to sleep by the seashore to offer sacrifices so that she could be famous and further went on to challenge her to respond if what he is saying is a lie.
READ ALSO: Mcbrown will be ridiculed in Ghana soon because her marriage will collapse – Prophet Stephen
In addition, the man of God stated that the controversial TV personality repeated the same thing 7 years later.
This time she went to the seashore on the night of August 3, 2007, and offered sacrifice again and went home the next day.
After another 7 years, Afia went back to the same place on August 7, 2014, did her usual thing by offering sacrifices and sleeping over till the next day.