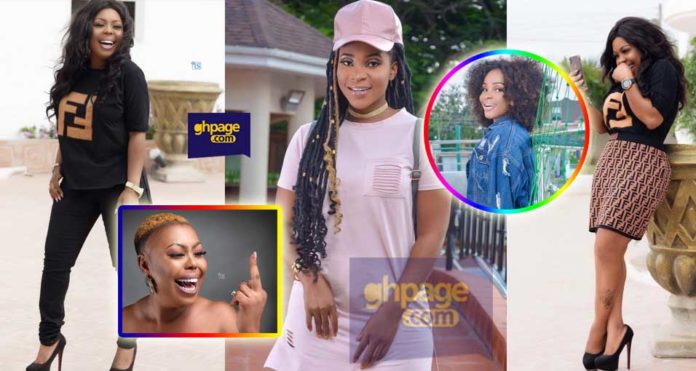 Kumawood actress, Benedicta Gafah has finally replied Afia Schwarzenegger's accusations that she aborted 6-month-old pregnancy allegedly belonging to Nana Ama Mcbrown's husband.
In a chat with Zionfelix, Benedicta Gafah stated that she would rather use a condom that cost not more GHS20 during s*x than to abort a pregnancy. She denied ever being pregnant.
SEE ALSO: Kumawood stars who have 'quit' acting and doing 'menial jobs' in abroad, some in Ghana to survive
Benedicta Gafah questioned the logic behind someone committing abortion when the pregnancy is 6 months old. Benedicta Gafah again questioned which doctor in his/her right senses will perform such abortion.
The actress signed unto Nana Appiah Mensah's Zylofon Media record label stated she will never commit abortion if she gets pregnant and her mother will even kick against it if she decides to do that.
SEE ALSO: Pregnant for Mcbrown's husband rumors: Benedicta Gafah twerks in a new video to prove she is not pregnant
Benedicta Gafah denied ever being pregnant let alone for her colleague actress, Nana Ama Mcbrown's husband, Maxwell Mensah.
She advised young ladies to use condoms whenever they are engaging in s*xual activities to prevent unwanted pregnancies and s*xually transmitted diseases.
SEE ALSO: Obibini and McBrown's husband, who could be responsible for Benedicta Gafah's alleged pregnancy?
Watch the interview below
SEE ALSO: Many people believe Benedicta Gafah is pregnant for Mcbrown's husband because of these 3 main reasons