Popular Reggae musician cum radio personality, Blakk Rasta has announced on his official twitter handle that today's edition of his flagship shot "Taxi Driver show" on Zylofon FM, is his last show until "sanity is restored" to Zylofon media.
This declaration from Blakk Rasta comes at a time when EOCO has secured an order from the court to freeze all Nana Appiah Mensah, the CEO of Menzgold and Zylofon's properties.
SEE HERE: EOCO finally secures court order to freeze NAM1's properties including Zylofon [READ]
Blakk Rasta, the "Barak Obama" hitmaker tweeted:
"Last #TaxiDriverShow on @zylofon1021fm till sanity is restored. Thanks for helping me prove again that we're the best in the game .. #AfricanHistoryClass To Jah be the glory…!" he posted.
The Economic and Organised Crime Office (EOCO) confirmed in a press release today, 29th January 2019 that the outfit has secured a court order to freeze all landed properties and vehicles belonging to the embattled Chief Executive Officer of Menzgold Ghana Limited, Nana Appiah Mensah aka NAM1.
According to EOCO's press statement issued today, 29th January 2019 and signed by the Head of Public Affairs at EOCO, Jacqueline Avotri, the landed properties does not stop with Menzgold Ghana Limited.
SEE ALSO: Tragic: Another Dancehall artist, Addi Billion dies through a car accident
It also includes Star Mad. Football Club, Zylofon Music and Media Company Limited, Brew Energy Company Limited and G. Tech Automobile Service.
Others include two properties located at Trassaco Valley; namely Plot No. 315 and Plot No. 337, a plot of land (No 54) near Oak Street, Trassaco Valley, an uncompleted residence and 510 acres of land.
The statement further directed all employees of the affected companies, relatives, and friends in possession of any of the properties to surrender them to the office.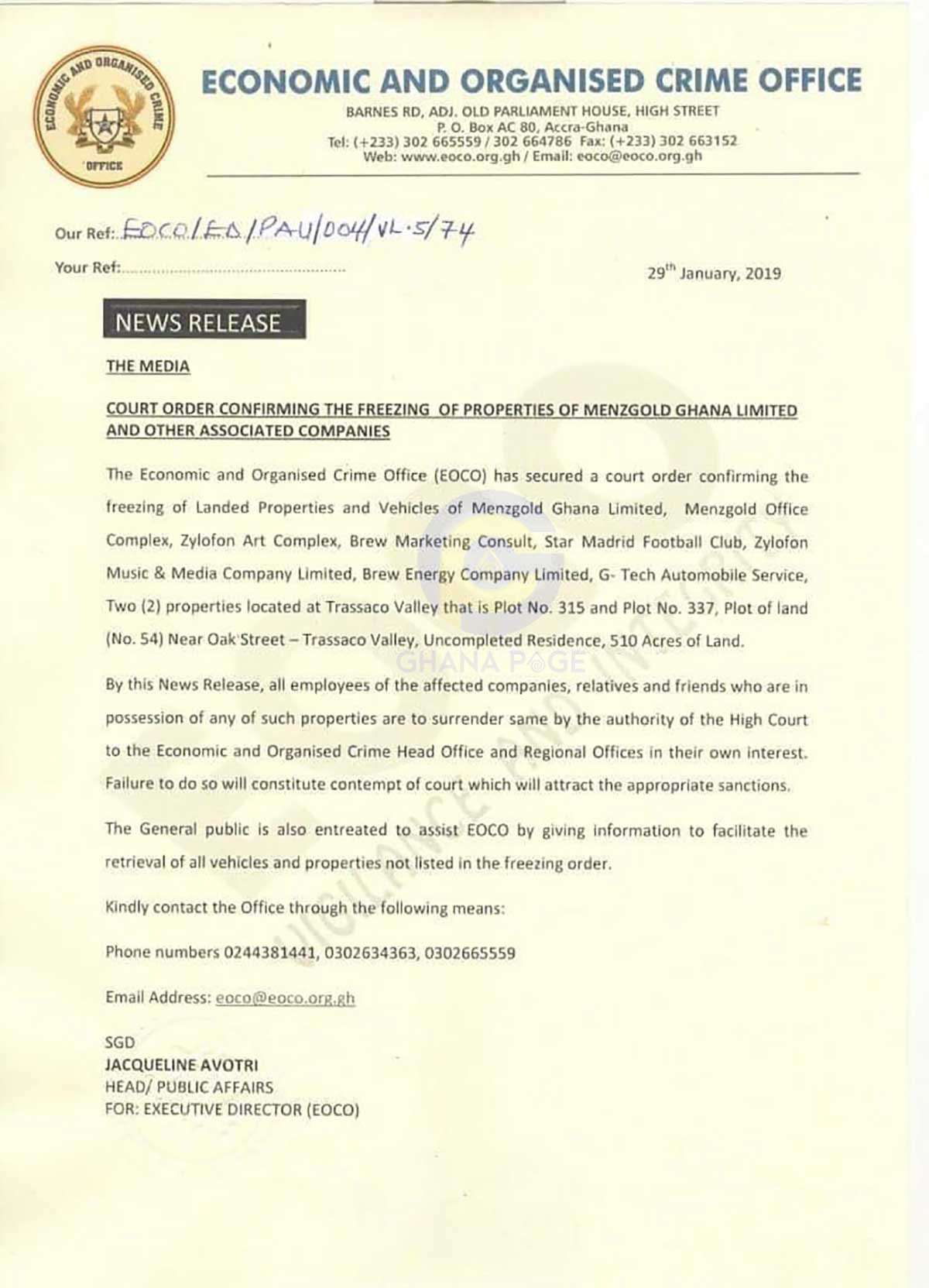 "Failure to do so will constitute contempt of court which will attract the appropriate sanctions," the statement said.
SEE HERE: EOCO finally secures court order to freeze NAM1's properties including Zylofon [READ]
EOCO in the statement further pleaded with the public to come forward with information to facilitate the retrieval of all vehicles and properties not listed in the freezing order.