This clearly shows how gullible some people can be. And I always ask, how and under what circumstances will make you send money to someone you have not seen before — To the extent of sending it to someone pretending to be someone you have not met before. ?
In fact, the entire story reads like a scam from day one, and yet this Sweden guy according to what Ghpage.com came across bought into the whole thing, and sent money to this 'Yvonne Nelson' who was somehow living in Nigeria.
Well, as some normally say "Everyday there is a certain fool who comes to the market".Thus, Ghpage.com came across an audio, which looking at the incident happened as far back as early last year, 2016.
Initially, Ghanaian actress Yvonne Nelson was accused by Marouff Kamara of defrauding him. According to the man who lives in Sweden, he has sent money to the actress on several occasions, but the actress who promised to pay back the loan is proving stubborn. He says Yvonne Nelson is not willing to pay the loan granted her.
However, whenever she subsequently asked for money, he sent it to one Stella Osavuwa, a Nigerian who he claims Yvonne introduced as her secretary. So for some reason whenever they spoke and Yvonne demanded money, he sent it to this 'secretary'.
After a while, he started demanding his money back but kept getting excuses. In the audio, it seems he was love struck as well, thinking he had a chance to get together with the woman he was speaking with, who he assumed was Yvonne Nelson.
When the actress was contacted, she declined to comment, saying such things have happened to her in the past. Indeed, people duping others in the name of celebrities is nothing new.
Listen to the audio below of Kamara's conversation with 'Yvonne Nelson'.In the audio, there is a slideshow of photos of the receipts of the money he claims he sent to her…
https://youtu.be/wN8r4jlrPIE
And below are Photos of the receipts of the money he claims he sent to her…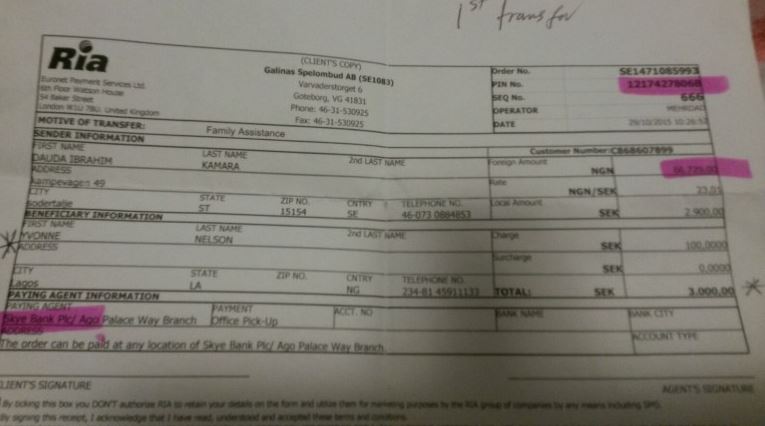 READ ALSO: Video: After admitting she is dating Yaw Dabo, Vivian Okyere now claims she can never date him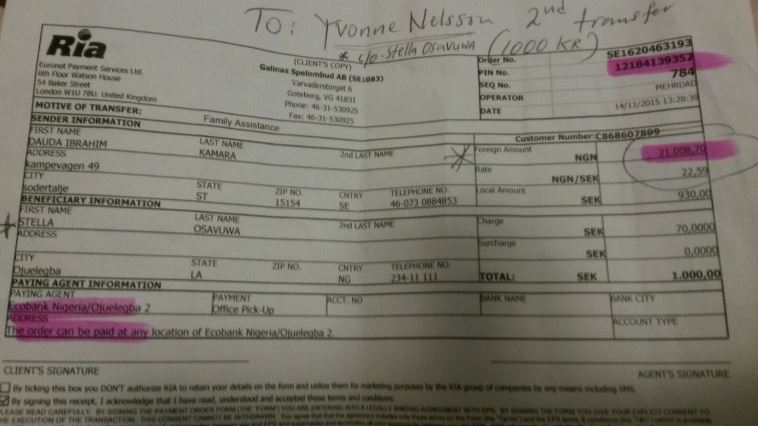 READ ALSO: Bishop Obinim breaks ancestral curses using old underwears (Video)
READ ALSO:KKD Speaks: "My son is a homos*xual; that's his choice and I support him"