Day in day out we keep hearing new kinds of stuff that makes us wonder why people choose to do that when generally is not done.
We all know that the common thing people are buried with is a coffin but over the years, some rich people have been buried with their cars so they can still enjoy the lavish lifestyle in the afterlife.
Well, a funeral was held in Benue state, Nigeria and what shocked sympathizers at the funeral ground was the family choice of a coffin.
Also Read: Moesha Boduong flaunts her uncompleted building on social media
The family of the late Ajingir Tsa laid him in state on his bed at his hometown in Mbabu, Konshisha local government area of Benue State.
According to reports, Ajingir requested that he should be buried this way when he dies…so his family did as he wished for while alive.
He was laid to rest on a bed and covered with a wrapper in a funeral attended by family members and friends.
An eyewitness, Aoraan Festus took to Facebook to share pictures from the burial.
Also Read: Slay queen goes mad after alighting from a Lexus Jeep car
He wrote: "History was made today at Mbabu, Shangev-tiev in Konshisha local government area as late Ajingir Tsa goes home as he refused to be buried in a coffin."
See photos from the event.
Also Read: I can't stop smoking weed – Komfo Kwadee tells Bola Ray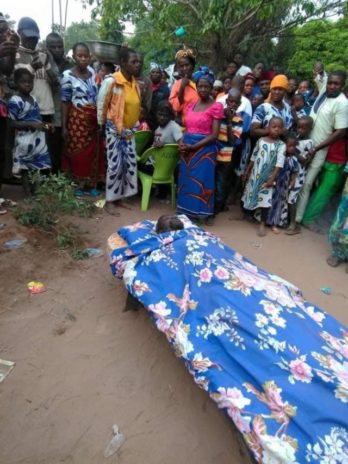 SEE MORE: Photos: Malawian Flamboyant Pastor Buys His Daughter A Brand New Maserati Jeep For Her 6th Birthday