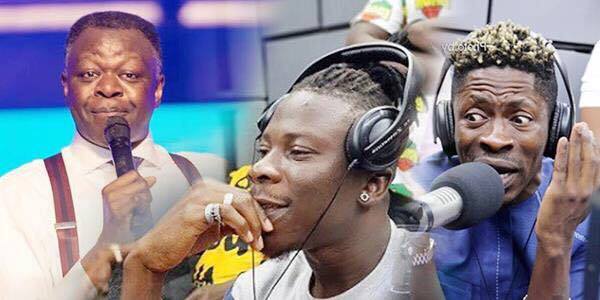 Founder and President of Eastwood Anaba Ministries (EAM) headquartered in Bolgatanga, Ghana, Rev Eastwood Anaba has waded into the ongoing beef between Stonebwoy and Shatta Wale.
In issues like this, fans of both factions will support their own but it becomes a tough decision when a neutral person decides to pick a side among the two.
Read also: Shatta Wale and Stonebwoy reported to the council of State
There are many gospel musicians and men of God who have confessed to listening to circular music and Rev Eastwood is no exception.
According to Eastwood Anaba, in a video spotted by Ghpage.com, the man of God who is dedicated to repositioning God's people through revival for the return of our Lord and Saviour Jesus Christ by propagating the gospel and preaching about love has eulogised Stonebwoy calling him an intelligent man who needs to be celebrated.
Read also: Yoggy Doggy blast Stonebwoy for attacking Shatta Wale
In his narration in one of his sermon in church, he watched Stonebwoy's reply to his archrival Shatta Wale and was amazed as to the level of intelligence the young man has.
"The other day I listened to two musicians fighting[Shatta Wale and Stonebwoy], they were having an argument."
Read this: Shatta Wale's brother reveals who said Stonebwoy killed his mother
"I was on Ghanaweb and I saw one of them replying to the other one so I decided to listen to what he had to say. When I listened to that singer[Stonebwoy], I called my daughter to get me the number of that boy and tell him he's a very intelligent man."
"I listened to the man and it was almost as if I was listening to a professor from a university at that young age," he said.
"So I told myself, there are intelligent people like this Ghana? blessed people like this in Ghana? God has given them gifts and skills but our problem is we don't know how to protect them, we don't encourage them but rather destroy," he added.
Read also: Stonebwoy and Shatta Wale's "beef" is fun – British High Commissioner
Shatta Wale and Stonebwoy have been on each others neck for some time now which made Stonebwoy in a radio interview spit out his anger on the "Gringo" hitmaker for saying he killed his mother; a comment Stonebwoy's camp alleged was made by Shatta Wale.
Shatta Wale, on the other hand, responded to Stonebwoy's accusation asking him to provide proof of when and where he made such a statement about his late mother. He also added that he would continue to attack Stonebwoy because he is a "Cry-Baby".
Watch the video below…
Read more: Shatta Wale found in a pool of blood after abusing Tramadol