In the wake of BBC Africa Eye's new investigative piece titled 'Sex for Grades' several students have begun making damning revelations about experiences they went through in the hands of some unscrupulous lecturers.
Ghpage.com has come across one of such experiences on social media.
The anonymous source narrated her ordeal with one lecturer identified as Peter Acquah, whom she said was her maths teacher. She alleged that the lecturer attempted to rape her when she was in level 200.
She described the Lecturer as very 'giant' and would have easily had his way with her if not for the timely intervention of her friend identified as Gerty.
SEE SCREENSHOT BELOW: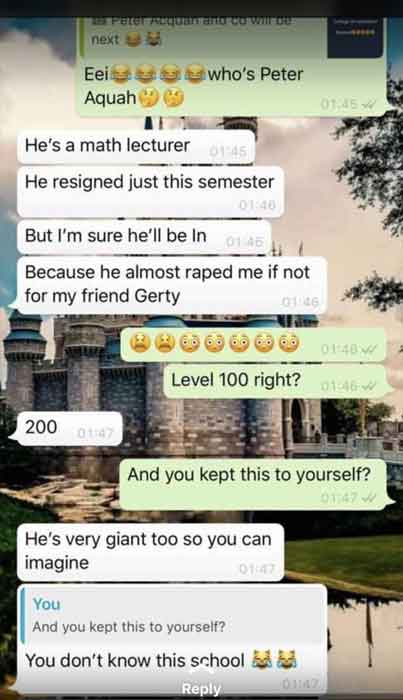 In another string of conversation, she also alleged that a certain Dr. Amankwah, a Physics lecturer who doubles as the deputy Hall Tutor for one of the University's Traditional Halls of residence, Akuafo Hall. She described the said Dr Amankwah as a pervert.
According to the unidentified student, Dr. Amankwah, took off his clothes and showed her his male genitalia, asking her if it was big. Incredible!
SEE SCREENSHOT BELOW:
These allegations are very grave and potentially damning. We however are to verify the authenticity at this moment. We are conducting intense investigations into the matter
In other news, Dr Paul Kwame Butakor and Professor Gyampo have been fingered in the investigative video. It is scheduled to be premiered on BBC Africa's YouTube channel today at 6pm.